Dan Carey, Health and Human Performance faculty member, died March 19 after a battle with brain cancer. He is remembered by students and colleagues as fun and optimistic, and as a mentor.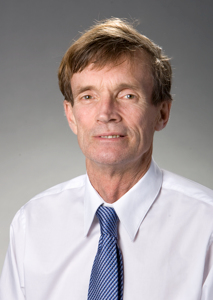 Carey had been fighting cancer since February 2010 after the discovery of a malignant brain tumor. Doctors found the tumor after he was in a car accident and had CT scans for injuries.
Lisa Keiser, Office coordinator for the HHP department, said even though time had passed since Carey's diagnosis, it was hard seeing his health deteriorate.
"He was diagnosed a year ago, and this has given everybody time to grieve, but he went from being this very active man to being very weak," she said.
Christina Meyer-Jax, HHP adjunct professor, said his absence is hard on the department.
"It's really difficult in the fact that he was so passionate about everything that he did in the program," Meyer-Jax said. "That's the hole that we're feeling."
Sophomore Kirsten Haukoos, a former student of Carey's, said even during the tough times of his treatment, Carey kept his spirits up.
"We knew he was a fighter," she said. ""His optimism helped us, and he kept going."
After losing Department Chair John Rowher earlier this year, Keiser said the department has felt a void.
"It was quite devastating. Words can't really describe," Kesier said. "Things were really progressing well. A lot of good things were happening."
Though it's been hard, Meyer-Jax said, with help from new adjunct faculty, the department will be able to pull through.
"We've had a really strong team," Meyer-Jax said. "We already had in place adjunct faculty Tim Mead. He wasn't supposed to start [until] next fall, and he graciously decided to start this spring."
Keiser also mentioned the possibility of hiring new professors.
"For Dr. Carey, we've had adjuncts teaching his classes since the fall," Keiser said. "We're hoping now to hire some new people to take up where he left off."
Both faculty members and students agreed that even during Carey's tough treatment, his main goal was to help others going through the same thing. He was the first to get a drug specifically for glioblastoma cells, in hopes of furthering research on this treatment.
"He was excited about his treatment knowing that he was the first, and he knew later on this would help people," Haukoos said.
Meyer-Jax also said Carey was extremely satisfied with all he had accomplished in life.
"He said to me, 'I have lived the best life,'" Meyer-Jax said. "He was a professional baseball player and he got to live out his dreams. He said, 'Hopefully I can help figure out this terrible cancer.'"
Kesier said his legacy will live on.
"The cool thing about his life now is that he has donated his brain to research, so even in death he is still helping," she said.
The funeral will take place at 11 a.m. Wednesday, March 23.
Tarkor Zehn can be reached at zehn0241@stthomas.edu.