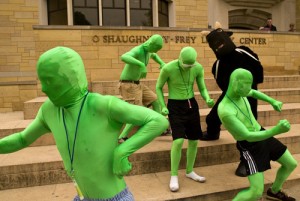 Four green men and a bull danced across campus Thursday afternoon to promote "Veery Disco: A Daft Punk Tribute," which will be performed Friday on South Campus.
Fans of Daft Punk, the famed French synth-pop duo, rarely get to see them perform because the group tours on a limited basis. This is what encouraged two men from Athens, Ga., to form a tribute band and begin touring the country.
"Very Disco: A Daft Punk Tribute" is 9 p.m. Friday in the Brady Education Center auditorium.
Aaron Hays can be reached at hays2206@stthomas.edu.