This fall, student clubs will have to say goodbye to Davanni's pizza, Noodles and Company dishes and Chipotle burritos at weekly convocation hour meetings.
The biggest change in the new purchasing regulations, and the change that will affect students most, is that food for any campus function will have to be ordered through campus catering services instead of from off-campus vendors.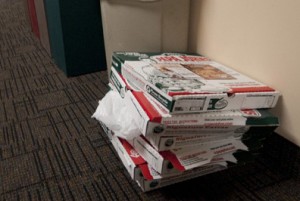 The new regulations are based on Board of Trustees recommendations, and it will take time for students to get used to the changes, said Margaret Cahill, campus life director.
"It's clubs and organizations and groups like USG and STAR [that will be affected]," Cahill said. "I think some of the things that will be a challenge for some folks will be that this isn't Jimmy John's or it isn't Pizza Hut. Do I still think it'll be really great subs or really great pizzas? Yes."
She said the new system will help "streamline" the current food ordering process.
"The current system assumes that students have the money to go out and pay $100 for the club's food that day," Cahill said. "And I can't tell you how many times students will pay for things out of their own pocket and lose the receipt and they don't get reimbursed. But with this new way you just charge it to your club or org."
Reasons behind purchasing changes
The changes were made partly to keep money on campus and reduce tax liabilities, said Todd Empanger, dining services director.
"I refer to it as Monopoly money," Empanger said. "It's the university's money in the first place and when you spend it internally it goes toward the service groups that are here."
He described the changes as "teachable moments" for students.
"Students will learn they need to manage funds within the university," he said. "Most of the clubs and all that are used to doing whatever they want and now there's going to be some guidelines. Students need to understand: it's not that we're against them – students need to work with us."
He said the changes "are more to benefit the university" than to benefit the students.
Shift from off-campus vendors to catering services
A "user group" was formed to develop the new dining services policies and is currently doing a marketing price study, Empanger said. He said the university's prices for food items are "way under" prices at other universities. But he added it might be harder for dining services to compete with certain food vendors' prices.
"When you're comparing to buying bulk, like Costco or Wal-Mart and all that, they get a better deal up front, so some of that we can't compete with. We're not sure yet what the administration wants us to do with that."
The user group is also creating a standard menu that campus event coordinators or student leaders can use to order food for on-campus events or meetings. It will include basics such as sub sandwiches and pizza in addition to "ethnic foods," Empanger said.
"It will probably include Thai, Chinese, Japanese and Indian options," Empanger said. "Like the HANA group, whatever kinds of food they want, we'll try to include those in our choices. They just won't have the choice to go to all these different restaurants."
No students are currently in the user group that is determining the policy decisions, Empanger said, although he said they have gotten feedback from Residence Life and Campus Life on what students are looking for.
He said to make the new method work, students will have to give catering services advance notice for food orders.
"We'd love a week's notice or more," Empanger said. "But we're going to set up some programs that will be set up for last-minute things so they can have [food] when they need it."
Student leader reactions
The switch from off-campus food vendors to catering services will be a good way for the university to save money, but some people might resent it because it's new, said Dwight Anderson, undergraduate student government president.
"Nothing's ever permanent, so we'll see how it goes this year," he said. "It's basically like a trial year, first year they're doing it, so always subject to change."
The changes might affect meeting turnouts, Anderson said. He also said they might change how students explore restaurants around the Twin Cities through clubs and organizations.
"That [opportunities to go to restaurants] is the biggest issue and it will change," Anderson said. "But we'll just sit back and see how it looks for the first months."
Corey Dahl, USG vice president of public relations, said the move could save clubs money in the long run and the changes won't put any one club at a disadvantage since all clubs will be dealing with the same rules.
Dahl is also a member of the Aquinas Scholars Honors program executive board, and he said they, like many other clubs, will be affected by the new regulations.
"We used to get pasta from Pizza Hut or Noodles and Company for our weekly meetings, so it'll be a change," he said.
But he said he thinks Dining Services will be able to offer enough food options to keep people happy.
Other purchasing changes
Any purchase over $3,000 will go through a bidding process where at least three preferred vendors submit their bids. Most printing projects will be required to go through on-campus printing services and there will be two preferred vendors for travel-related purchases such as airline tickets.
Dahl went through the bidding process when he ordered T-shirts for USG to distribute at homecoming. He said the process worked well and they got a good price for the shirts.
"St. Thomas has always encouraged bidding and had preferred vendors, but some students didn't always realize we had preferred vendors," said Karen Harthorn, director of purchasing services.
Help with changes
There will be information sessions at the Fall Leadership Institute to help student leaders learn about the food purchasing changes and Campus Life is always available to answer questions, Cahill said.
Katie Broadwell can be reached at klbroadwell@stthomas.edu.