After two incidents, St. Thomas' Snoopy statue has been removed from its Finn Street and Grand Avenue location and placed in storage.
Employees at the Child Development Center noticed the first attack on Aug. 9. The Public Safety report, filed on Aug. 10, stated that the left side of Snoopy's head appeared to be dented.
"The one side of the face was bashed in," Joanne Boyer, assistant director of the Child Development Center, said. "More recently we noticed the statue was leaning over."
A second report was filed on Sept. 1. Public Safety's crime log stated that the statue had a new dent on the nose and was struck with an object on the left side of the face between the nose and eye.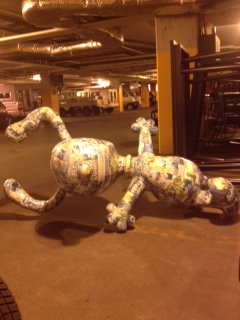 Public Safety Associate Director Michael Barrett said his department does not know whether the two attacks are related or who committed the crime.
"There are no suspects, witnesses or video. It occurred in an area with no cameras with not many students around," Barrett said.
The Snoopy statue was a gift donated by a St. Thomas alumnus and was installed next to the Child Development Center at the request of the donor in July.
Bill Kirchgessner, St. Thomas' marketing communications executive director, said the reason Snoopy came to campus was because the alumnus cares for St. Thomas.
"He chose to decorate it with St. Thomas' images, which means St. Thomas meant a lot to him," Kirchgessner said.
Sophomore Natalie Heggen said she was disappointed to hear about the attacks on Snoopy.
"I think it's really sad because it's a kid's place, and they vandalized it. It's supposed to be a safe place for the kids," Heggen said.
Kirchgessner said once the statue is repaired, it may be put in a new location.
"The statue will probably not be back up before November, and may not go back to the spot at Grand and Finn. We haven't made that decision yet," Kirchgessner said.
Stephanie Dodd can be reached at dodd0474@stthomas.edu.