Some students dislike eating meals alone, especially in the North Campus cafeteria, and some students will even skip meals if they have to go to dinner alone.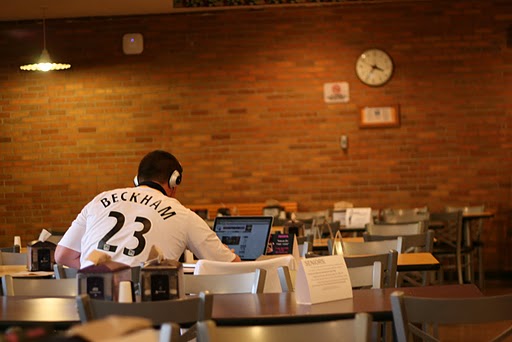 "I don't like sitting by myself," freshman Cole Aden said. "I'm more social. I won't go if I don't invite somebody."
Psychotherapist Meg Schneider wrote a blog on the Huffington Post about how students come into her office discussing their fears of eating alone.
"So many depressed and lonely college students walk into my office describing the specter of eating alone in a campus dining hall as inspiring nothing short of anguish," Schneider said.
Several St. Thomas students have the same fears.
"It's lonely and depressing, but sometimes I do eat alone simply because I'm short on time or really need to do some homework," sophomore Elly Copeland said. "It's just fun to have conversations with people over lunch considering it's the only time you really can anyway."
Schneider wrote that students are never afraid of eating alone, but are afraid of eating alone in public. She wrote that students who eat alone assume their peers think they have no friends.
"I guess you feel socially awkward," freshman Lindsay Boesche said. "When you're sitting by yourself, you feel like people are looking at you like you have no friends to sit with."
Schneider also wrote that sometimes students sitting alone believe others will think they are pathetic and pity them. Her advice: Act comfortable with the situation.
"If you look around, smile softly at anyone who glances your way and casually flip through a magazine, seeming only moderately engaged in what you are reading, people will likely see you as open," Schneider said.
Senior Alyssa Boesche said, "I know when I see people sitting alone I feel bad for them, and I want to go sit by them. I don't like sitting alone, and conversation's always nice to have too."
Sometimes schedules between friends don't coincide, so one friend is left eating alone, Schneider wrote.
"I know some people who eat alone, and I'm friends with them," Aden said. "Sometimes no one else is eating at that time, so it doesn't always mean something."
Schneider said many students ask what is wrong with students who eat alone.
"The answer is, nothing is wrong," she said. "The idea that there are a stream of dinner companions and endless bright mealtime conversations is a fantasy. The fact that friends are not always available to eat with you, that students feel invisible during some conversations, that people you know may have made plans to eat specifically with one person or another is far more common."
Maggie Clemensen can be reached at clem0427@stthomas.edu.