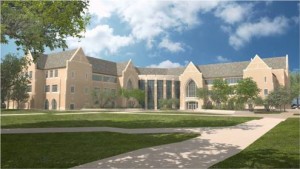 The Opening Doors Capital Campaign is more than $37 million short of its goal, but construction on the Anderson Student Center will begin on schedule, with the demolition of O'Shaughnessy Hall in March.
For several reasons, students and staff are excited about the new Anderson Student Center.
Vice President of Student Affairs Jane Canney said the Anderson Student Center "will be a world of difference" from the Murray-Herrick Campus Center.
"It will be an amazing building," Canney said. "I think of like the student center here as kind of being that space that we call the blue lagoon … You're going to have this whole amazing building that is just going to really rock the campus in a totally different way."
Executive Director of Campus and Residence Life Mary Ann Ryan is a collaborator on the student center project.
"[The Anderson Student Center] is a building that our students so richly deserve because it's going to enhance student life on campus and interaction and, you know, it's just terrific," Ryan said.
Murray Hall was built in 1960 when St. Thomas was an all-male college with a population of 1,882 students.
"Murray Hall, at the time it was designed, it was just perfect for that period of time and for that student population, but in the past 50 years, St. Thomas has really changed as the world has changed," Ryan said. "The Anderson Student Center is being built with today's students in mind and thinking about the future and what students will want today and [several] years from now."
Facilities and amenities
The plans for the ground level of the Anderson Student Center include a 4-lane bowling center, a dance floor for more than 200 people, a hair salon and parking for 30 vehicles.
The first floor will be all student space, consisting mostly of a lounge that will look out to Monahan Plaza. Recreational space will feature ping pong tables, flat screen TVs, foosball and a putting green. Ryan said it will be a space for whatever entertainment is popular at the time.
The Emporium, also on the first floor, will include a merchandise store, a new and improved C-Store, a coffee bar, Scooter's and the Grill. Scooter's will have a stage, billiards and electronic darts. It will also have a giant pizza oven.
The second floor will include the student dining center, which will stay open later than the current cafeteria. It will also have the priests' dining room, 10 meeting rooms, a family/lactation room and an art gallery for Asmat art, as well as students' and visiting artists' work.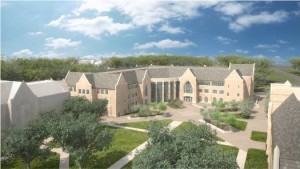 The third floor will consist mainly of the 9,600 square-foot multipurpose room. This room will seat 750 people for dinner and 900 people for presentations or lectures. The floor will also have four private dining rooms, a hearth room with a double-sided fireplace, a coffee/smoothie bar and more meeting rooms and offices.
Ryan said there are nearly 120 student clubs and organizations at St. Thomas, so the new leadership room, also on the third floor, will be a place for group leaders to work and a place for storage. Each organization will have a drawer in a filing cabinet to keep records in. STAR, USG, Hana, the yearbook staff and Tommie the mascot will have space and storage in the room as well.
Sophomore Kiana Williams, a STAR intern, is excited for the new student center to open.
"I'm ready for it to just be there," Williams said. "There's so much planning that we want to do for STAR, but we can't because of different space and things like that, and I think a lot of people are just so excited just for all the new facilities that are going to be there, all the things you can do and really just want to take advantage of it before we're graduating."
How will the O'Shaughnessy family be honored?
How the university will honor the O'Shaughnessy family is still being discussed, but Canney said administrators have been talking with the family.
"John O'Shaughnessy is on our student affairs committee of our board of trustees, and he, at the last board of trustees meeting, talked about how honored he is that the Anderson family has come forward to be a part of the university community and that the Anderson Student Center will be sharing book ends across the mall from the O'Shaughnessy-Frey Library," Canney said.
The doors from O'Shaughnessy Hall will be in a special exhibit in the corridor of the Anderson Athletic and Recreation Complex. The exhibit will be a special honor for the O'Shaughnessy family and the building.
What will happen to Murray-Herrick Campus Center?
With the opening of the Anderson Student Center, the original Scooter's, student dining room and the Grill will close. The bookstore on the lower level of Murray-Herrick will only sell books, as the merchandise portion will move to the new student center.
The Commuter Center, Multicultural Student Services, International Student Services, Campus Ministry offices and the Dean of Students will all be moved into the second floor of the new student center as well.
No plans have been made as to what will be done with the open space in Murray-Herrick Campus Center. But Personal Counseling, the post office and the Career Development Center will all stay in Murray-Herrick. Canney said the issues to discuss are funding and who gets priority on using the space.
"It's just going to be a very different place; it's going to be a student space," Canney said. "And we are so thrilled to be able to finally have this opportunity."
Construction on the building is scheduled to start in May and the Anderson Student Center will open in January 2012.
Stephani Bloomquist can be reached at slbloomquist@stthomas.edu.