Junior Marguerite Maginot used to be embarrassed to attend home football games.
"The team was terrible my freshman year," she said. "We wouldn't even stay to watch the whole game."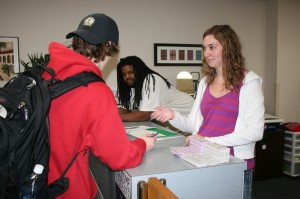 But a turnaround from a 2-8 record in 2007 to now hosting a second round NCAA playoff game has changed fans like Maginot's opinion of the team.
The line of students waiting outside the box office for free vouchers to attend Saturday's playoff game against Coe College stretched all the way back to the bookstore.
The box office started giving out vouchers today at noon. Not all of the 500 vouchers have been handed out, but Box Office and Expeditions manager Colleen Stephens said the turnout was great. She added that she saw students getting vouchers in the box office that she had never seen before.
Vouchers give free admission to the 11 a.m. chili fest before Saturday's game in addition to admittance to the game. Because the game is an NCAA playoff match, students do not get free admission their school IDs unless they have a voucher. Vouchers are also good for a free T-shirt.
Junior Jenny Cielinski was already planning on being around Saturday because of her work schedule, so attending the game was a no-brainer.
"I think it's awesome that this is the second round, and the fact that we're hosting it is convenient," Cielinski said.
Shane Kitzman can be reached at smkitzman@stthomas.edu