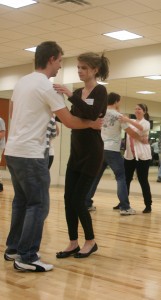 Some students are spending their January term in the Anderson Athletic and Recreation Complex taking classes for credit.
Junior Elizabeth Peterson needs two credits to fulfill her accounting major requirements, so she is taking body sculpting for women this J-term.
"It's more of a strength-training course, increasing endurance as well as muscle tone," Peterson said.
Her class has done a variety of activities including free weights and yoga. Peterson took the class to get back in shape, but she was also hoping to have some fun over J-term.
"Our teacher really pushes us," Peterson said. "That was something I was hoping for."
Freshman Kevin Dease is taking the Latin dance course this J-term and said he hopes to improve his dance repertoire.
"It's fun to learn and good exercise," Dease said.
Dease, an electrical engineering major, took swing dancing classes in the past, and when he saw Latin dance he said, "Why not?"
"If I didn't take a class over in the athletic center, I'd have no motivation to get out of my dorm and go do something," he said.
Most two-credit courses cost about $1,872 for two credits, but Dease didn't seem fazed by it.
"As for the cost issue, it was an opportunity to learn a lesson you can use throughout life," Dease said.
Senior Cyrus Allen, who is taking yoga and Latin dance, said he saw both classes as a great way to have fun and learn during J-Term.
"It's a more structured way of promoting exercise," Allen said. "It gives a set time for people to work out."
Allen, a philosophy major, has a few credits he needs to complete to graduate.  
"Since it was my senior year, I wanted to take more fun, relaxing classes," Allen said.
Rather than taking a traditional J-term course, Allen gravitated toward the athletic classes since they do not last as long.
"I would find it difficult to learn for three hours," Allen said. "I don't think I'd be able to learn as well with the J-term structure."
Class cost did not bother Allen since other two-credit courses would have cost the same amount.
"Either way, I would have had to pay that $4,000," Allen said.
Senior Tyler Edstrom, a mathematics major, is planning to take the spinning class next semester. Edstrom took a spinning class last summer and said it is great as long as the instructor is a good coach.  
"Spinning class is a great way for me to get that cardio back up," Edstrom said.
Courses increasing in popularity
Lisa Keiser, health and human performance department office coordinator, said the courses are becoming popular with students. These types of courses were first offered in the fall and even more are planned for spring semester, Keiser said.
Eighteen students have enrolled in Latin dance and yogalates, a combination of yoga and pilates, while body sculpting for women has nine students.
   
The classes also have an academic component to make it feel worthwhile, Keiser said. She explained that students can earn two credits in most J-term classes, and many students need two-credit courses to fulfill credit requirements.
Some of the classes have homework and a final exam to keep students active inside and outside class, Keiser said.  
"We believe physical activity is an important part of everyone's life," Keiser said.
She said these classes are good stress-relievers for students, which could explain the high interest in them.
   
Megan Jacobson, the spinning class instructor this J-term, said there is knowledge to gain through physical education. Jacobson was an instructor for the former physical education 100 requirement, and said she enjoyed teaching a spinning class last semester.  
"It's a great way to provide opportunities for students," Jacobson said.
About 10 percent of Jacobson's class was non-students. Jacobson said she is glad to see high interest in these classes.
"As long as students are showing a strong interest, the physical education department will continue to grow to offer more opportunities for the students," she said.
Recreational fitness classes available for St. Thomas community
In addition to for-credit courses, other classes are open to students, faculty and staff. These include spinning, spinning for beginners and yoga, which is different than the two-credit yogalates course.
"We tried four classes this past fall," Michelle Morgan, marketing manager for the Anderson facilities, said.
Morgan took the AARC's spinning class that simulates outdoor biking last fall to see the potential interest in the courses. She said the class was full, mostly with students.
"I was surprised how many students were up and working at 6:15 in the morning," Morgan said.
Students, staff and faculty could sign up for eight one-hour classes at the St. Thomas Box Office and Expeditions for $50. These non-credit classes are capped at about 30 people, although spinning has a lower cap due to equipment availability. Morgan said these courses are different than the ones offered the last year.
Different courses offered in future
Keiser said courses next semester range from golf to martial arts. Some of the courses are full, and even wait-listed. Keiser said she hopes they can get a wide range of classes, including some that students could not find at another athletic club.
"In the past we didn't have a lot of facilities to offer these courses," Keiser said. "We are going to always be expanding our list."
Keiser said tennis or snowboarding courses may be added, or even an outdoor exploration class in the summer.
Nathan Spencer can be reached at spen9079@stthomas.edu.