Future St. Thomas presidents will not be required to be priests after a recent change in university bylaws.
The Board of Trustees voted at its February meeting to allow Roman Catholic religious or Roman Catholic lay people – Catholics who aren't priests or members of religious orders – to be hired as president in addition to priests.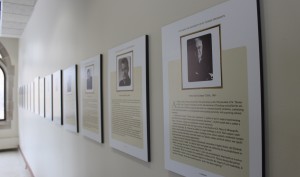 Susan Alexander, executive adviser to the president, said the board of trustees was reviewing bylaws and decided it was time to update this bylaw, too.
"The last time we had to recruit for a president, the number of priests available for academic work was a much smaller pool," Alexander said. "[The board of trustees] decided that they needed to get the best person possible for this job."
Alexander said the change does not mean the Rev. Dennis Dease, St. Thomas president, is going to retire soon, but the board is making plans before it needs them.
"He has not announced any plans for retirement," Alexander said. "You need at least a year's lead time on a presidential search."
She said priests are needed more in parishes.
"You can substitute a good lay person for the presidency of a university but not for a parish," Alexander said. "Fewer priests have been encouraged to go on and get academic degrees and Ph.D.s and teach in universities because of the shortage of priests, so that really does limit the pool."
Michael Galligan-Stierle, president and CEO of the Association of Catholic Colleges and Universities, said 60 percent of Catholic schools nationwide have lay presidents.
"In the next 10 years, lay presidents will significantly increase as Catholic schools have the oldest median age of presidents," Galligan-Stierle said. He also said choosing a president is "not a matter of lay or priest or religious. It is a matter of competence."
"An unqualified priest-president would not be a good choice for St. Thomas, just as an ill-suited lay person would not be a good decision by the board," Galligan-Stierle said. "When a good leader is chosen, priest, religious or lay, the school thrives."
Benefits of a priest-president
The Rev. Michael Becker, St. John Vianney Seminary rector, said he understands why the board made the decision but added that having a priest as president is valuable for a Catholic university.
"From a pragmatic perspective I understand, but from a visionary perspective, I have some concerns," Becker said. "I want the university to remain strong in its Catholic identity and to grow and flourish."
He said having priests as Catholic university presidents can lead to more priests in parishes.
"There is a tension, because we need more priests in general," Becker said. "How shall we obtain those vocations? One of the primary places of investment should be a university setting, especially a Catholic university."
Having a priest-president at a Catholic university would encourage young men to follow that example and enter the priesthood, Becker said, in addition to creating faith-filled students who later raise their children in the Catholic faith and encourage them to become priests.
He said priests bring something unique to the presidential role.
"A lay Catholic person could be a wonderful person with many personal gifts for leadership, speaking, discernment, practical wisdom for where to put money and for balancing a budget and goods on campus," Becker said. "But the priest in his own being is a sign and witness of our heavenly calling.
"When we look at the president of a university and see a priest, we're remembering the ultimate purpose of why we live and study at all."
Becker said a priest-president is bonded to the archbishop and the archdiocese in a deeper way than a lay person.
"Some universities were inspired by particular religious orders, such as the Jesuits or Benedictines, but this particular university was founded in the spirituality of St. Peter and the diocesan priesthood," Becker said. "Maintaining a diocesan priest at the helm maintains an intimate connection with the diocese."
Don Briel, Center for Catholic Studies director, agreed that a lay president would not have the same symbolic relationship with the Catholic church as a priest. He also said a good lay president would need to have the "ability to translate the unique mission of a Catholic university."
"It will be important as we look at lay candidates that we expect something more than the mere fact that they happen to be Catholic," Briel said.
Some St. Thomas alumni have asked Briel if he sees the board's decision as a retreat from St. Thomas' Catholic commitment, he said. From a public relations viewpoint, he said, the bylaw change could be seen as a move away from the St. Paul-Minneapolis Archdiocese, especially after the board of trustees' decision a few years ago to no longer have the archbishop automatically serve as chairman of the board.
Briel said he understands the challenges the board is facing as more priests are sent to parishes instead of further academic study. He added he is glad to see a "strong preference" for priests and religious was included in the bylaw change.
Presidential searches will consider many factors
Alexander said a search committee will decide what to look for in future presidential searches, and the "strong preference" for hiring priests and religious will be a factor.
"Any time you're in a search, there are always trade-offs," she said. "It doesn't mean any priest or religious who applies is in. It just means that's an important factor."
She said the next St. Thomas president the board chooses will be someone who will carry on St. Thomas' Catholic traditions.
Galligan-Stierle also said although the bylaw change allows a lay person to become president, it doesn't eliminate the possibility of another priest-president.
"This does not mean the next president will be a lay person," he said. "It only means that the board will now be able to choose the most gifted and qualified baptized Catholic to lead the university."
Katie Broadwell can be reached at klbroadwell@stthomas.edu.