College graduates across the U.S. are struggling to find jobs after graduation and St. Thomas graduates are no exception.
The national average rate of unemployment for recent college graduates is 5.2 percent since 2006, according to the Bureau of Labor Statistics.
The statistic for recent St. Thomas grads was even higher than the national average: 5.6 percent of graduates since 2006 are unemployed and searching for work, according to data from St. Thomas' Institutional Research and Analysis department.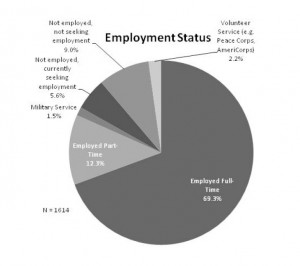 Barbara Koehl, who graduated from St. Thomas in 2010, said that statistic fits with what she's observed.
"I actually only know two of my friends who are working full-time jobs right now," Koehl said. "So a lot of people are taking part-time jobs and there's a lot doing internships, whether they're paid or unpaid, in order to gain experience in what they eventually want to do."
Koehl works part-time and is also a part-time intern for GoLite, a company in Boulder, Colo.
"It's a really hard market right now, so seniors need to start applying for jobs super early, which is something I didn't do," Koehl said.
Amanda Theisen, a KSTP producer, graduated from St. Thomas in 2004 and said she encourages seniors to start applying for jobs as soon as possible in the first semester of senior year to prepare for after graduation.
"Once you get that diploma in May, you are right in the job market right away. There is no summer break," Theisen said.
Other 2010 graduates opted for applying to graduate school, such as Brian Bins. Bins recently applied to dental school and is waiting for the results. In the meantime, Bins waits tables at night for a restaurant and also interns at a dental office to gain experience.
"I've just been kind of thrown into the real world, and it's been a little bit difficult," Bins said. "I haven't had to really learn anything radical in the way of life skills or anything like that, but I would say I'm still transitioning."
Bins said he is optimistic about his fellow classmates' futures.
"If I was to gauge them at being successful and having derived success from their St. Thomas education, I would say definitely," he said. "I don't know many people in my major who didn't go on to some sort of professional school. And in terms of being employed, I know a lot of people who I graduated with do have jobs."
Maggie Clemensen can be reached at clem0427@stthomas.edu.