The Parker Quartet, a Grammy Award-winning chamber group, is teaching, performing and creating enthusiasm for the music department as part of St. Thomas' first "Artists-in-Residence" program.
The two violinists, cellist and violist won the 2011 Best Chamber Music Grammy. The four instrumentalists will be performing public concerts, musicianship seminars and lecture demonstrations for music students at St. Thomas. The quartet will also hold pre-concert discussions, called the "All Hearts Listen Lectures," coach chamber music and teach master classes for string and composition students.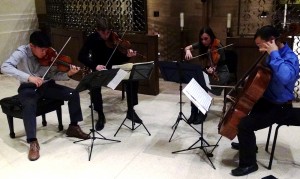 Matthew George, music department chair, said the residency started after he heard the group was working in the Twin Cities and had a conversation with his colleagues.
"This is the first full-fledged residency because all the forces came together and it just worked," George said. "So a bit of serendipity and a bit of planning came together on this one."
Since its residency started, the group's goal has been to expose St. Thomas students to chamber music.
"(St. Thomas) doesn't have a chamber music department, so I think that's a big thing for us to shed light," quartet violinist Daniel Chong said.
Cellist Kee-Hyun Kim said playing in a group can be an enriching experience for a musician, especially students.
"It's great to play by yourself, but it's even better to play with other people," Kim said. "I feel that the students see that excitement that we bring to chamber music and they can sort of bring that into their own rehearsals as well."
Senior trumpeter Brandon Delbow said his chamber ensemble went from a student-led group to a one coached by the Parker Quartet, and it has made a difference.
"What (the Parker Quartet) helps us with is how to break things down, how to work with other people, how to listen to your colleagues, and how to get the most out of your rehearsal time," Delbow said.
The residency will last the rest of this academic year. The music department has yet to decide whether the group will stay longer, but George said he hopes to keep the "Artists-in-Residence" program going.
"The idea is to get musicians of that caliber to work with any of our students," George said. "We would like to bring in artists from different disciplines, maybe a pianist or singers or jazz musicians."
Senior Alexandra Gobell said different disciplines would be a good idea for future Artists-in-Residence.
"I hope that they can bring in some more variety as opposed to just string players," Gobell said.
Overall, George said the Parker Quartet has helped infuse life into music department.
"We're thrilled that they're here," George said. "We're trying to elevate the arts on campus. This is a great way to do it."
Laura Landvik can be reached at land7854@stthomas.edu.