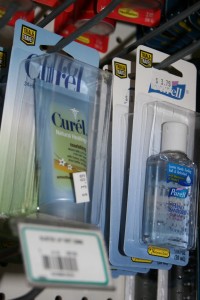 Hand sanitizer is flying off store shelves around the United States as the number of H1N1 cases rises this fall. Sanitizer sales are up 70.5 percent this year over last year, Nielsen Business Media reported this week.
In six months since spring outbreaks of H1N1, hand-sanitizer sales totaled $118.4 million. Last year, hand sanitizer generated $69.4 million sales during the same period last year.
At St. Thomas, the demand for hand sanitizer is also up from last year. In previous years, sanitizer sat on the shelf and never had to be restocked. But this fall, C-Store supervisor Joshua Moldenhauer said he has had to restock hand sanitizer three or four times.
"For whatever reason, it seems that more people are getting sick," he said. "It's hitting a lot closer to home."
A small bottle of hand sanitizer sells for $3.79 at the C-Store, which Moldenhauer said is more expensive than other places. But he said he expects the sanitizer to keep selling.
STAR also has seen the popularity of hand sanitizer as it handed out small bottles to students at move-in and other events. STAR Intern Mo Berkowitz said they have given away 2,400 bottles and have more to hand out at future events.
However, at Super America across from campus, manager Tom Schennemann said he has only seen a small increase in hand-sanitizer sales.