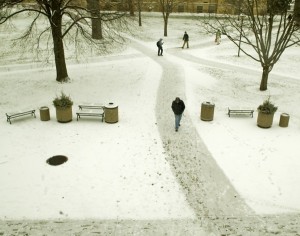 The National Weather Service expects heavy snow across southeastern Minnesota tonight.
The Twin Cities could see as much as 2 inches of snow by late Tuesday afternoon, according to the Weather Service. By Wednesday morning, 5 to 8 inches of snow could accumulate around Minneapolis and St. Paul.
This storm could bring more snow to the Twin Cities than any storm last year. Winds are also expected to pick up, gusting up to 40 mph. The blizzard conditions and cold weather will likely cover parts of Minnesota. Western Minnesota could see temperatures as low as 15 degrees below zero Wednesday night.
St. Thomas' ground supervisor Bob Reed said the Physical Plant has three plow trucks, two John Deer loaders and one tractor ready to plow the nearly 11 miles of sidewalks around campus.
Reed said the loaders have a lot of blind spots that make it hard to see students.
"It's amazing how many people will walk behind you and you don't know they're behind you," he said. "People need to be aware that we can't always see you."
With the busy construction, he recommends walking through Murray-Herrick when a loader is clearing the sidewalks between Upper and Lower quad.
Reed also says the Physical Plant is being more sustainable by using Bare Ground Liquid Deicer for the first time this year, limiting the amount of Magnesium Chloride salt.
The AP contributed to this report.
Michael Ewen can be reached at mtewen@stthomas.edu