The size of the freshman class is on the rise, along with freshman involvement on-campus.
St. Thomas now welcomes incoming freshmen by offering a civil discourse program, called Connect, that gives them an opportunity to engage with peers as well as introduce them to resources and events the campus offers.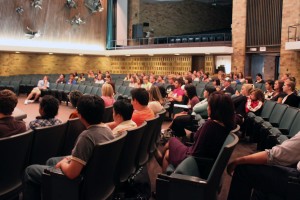 "[Connect] explains how to use our resources on-campus and I thought it would be a good way to learn things and meet new people," said freshman Megan Backstrom.
The program, formally known as Connect Four, was started last year by the College of Arts and Sciences Board of Advisers and launched last fall by the Division of Student Affairs.
The program was sparked by St. Thomas' experiences with controversies that have involved speakers, films, books and policies within the last couple years, said Dr. Marisa Kelly, dean of the college of arts and sciences, in a Bulletin Today article.
The Connect program's purpose is to bring together freshmen, upperclassmen and staff mentors to encourage academic and social success, said Amanda McNaughton, a sophomore student facilitator.
About Connect
The program is eight weeks long and requires students to attend four bi-weekly meetings and attend on-campus events to meet new people. Backstrom said she joined the program to meet new friends, and she's met a lot already.
More than 200 freshmen signed up to participate in the program, which is an increase from the 65 who participated last year.
Eighty-five percent of colleges have a freshman program for incoming students, said Mary Ann Ryan, executive director of campus and residence life. She said she is excited so many new freshmen are involved in the program.
Freshman Leadership
Connect was created for and by students after incoming and current students were asked what they wanted in a first-year program.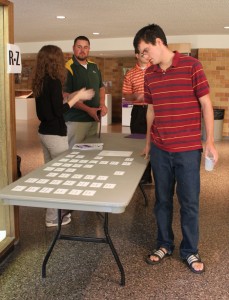 Students wanted Connect to be a co-curricular program that encompassed highly engaging discussions led by their peers, Ryan said.
"I want to invest my time in the program because I think it is very important to help and guide freshmen in their new journey of life," said sophomore Allie Koram, who participated last year in Connect and is now a student facilitator. "This program helps freshman become acquainted with the St. Thomas campus, practice civil discourse and meet some great people."
Practicing Civil Discourse
What students take from the discussions and entire program will help them throughout life and their four years on campus, said Vernon Klobassa, Ireland area director and staff facilitator.
Koram also said civil discourse will help students beyond their college years.
"I believe that civil discourse is something that will be very important in the future," Koram said. You don't need to agree with what someone is saying, but you can't attack them either. By learning to engage in civil discourse, freshmen will practice and learn how to have conversations while respecting another's opinion."
Future Freshmen
"It was a great opportunity for students to connect with one another and learn about resources. That was our goal and I thought that is what they achieved," Klobassa said about last year's success.
Students in the program will make friends, know about resources and have an edge on others because of their involvement and interest in the program, McNaughton said.
"Our goal is that the program becomes a requirement for all next fall's incoming freshmen," McNaughton said about the future of Connect.
Ariel Kendall can be reached at akendall@stthomas.edu.