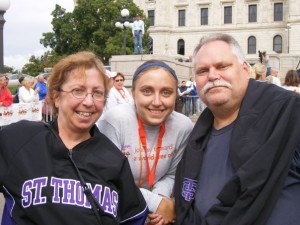 As a child, junior Erin Weber struggled to explain why her father, Mike Weber, couldn't get his words out all the time.
"In the summer if I'd had friends over, he'd have a hard time talking with them and getting his words out, so they would ask me, 'Oh is your dad drunk?' because he was slurring his speech," Erin Weber  said. "And it's kind of hard to explain to your friends when you're 10 years old that your dad has this disease and he's not drunk; that's not what's going on here."
Mike was diagnosed with MS when Erin Weber was 3. He now works for the physical plant at St. Thomas and is part of the reason Erin Weber started the St. Thomas chapter of Students Against Multiple Sclerosis last year.
This week is nationwide MS awareness week, and Erin Weber said she and the rest of SAMS are busy preparing to "spread the word" about MS.
"There's a lot of organizations out there, and MS [society] is another one that can help people," Mike Weber said. "It's great that they're willing to give up their time and efforts to help people who have a disease that's particularly nasty."
Erin Weber and her friend, junior Michaela Janssen, started the club because they thought involving college students and spreading information about the disease was important.
Janssen, whose mother has MS, met Weber at a camp for children whose relatives have the disease. At that camp, Erin Weber became passionate about raising MS awareness.
"The more that I learned that I wasn't alone, the more I wanted other people to know that they weren't alone either," Erin Weber said.
Getting the club going
Erin Weber tried starting the club her freshman year, but since the MS society sponsors stem cell research, Erin Weber had to assure St. Thomas staff that any money raised would fund programs that support people with MS and their families, not research.
Erin Weber said about 15 students are currently involved in St. Thomas' SAMS chapter.
Junior Jennifer Wind, one of those members, said she didn't know much about MS until she met Erin Weber freshman year.
"Through being in this club, my knowledge of MS has greatly improved," Wind said. "And since joining the club, I have begun to realize just how many people around me are affected by MS."
This year SAMS has hosted several events and guest speakers. Erin Weber said guest speakers can tell students what living with MS is like and how they have overcome their adversities. SAMS also hosted a "get to know someone with MS" event where students could talk one-on-one with a person who has MS.
One event Erin Weber said really "brought it close to home for a lot of people" was a simulation that allowed students to experience what it feels like to have MS.
"A lot of people thought that was interesting," Erin Weber said. "Because it's hard to explain it, so it's easier to feel what it really feels like."
SAMS' latest efforts
For MS awareness week, the club set up a table Monday through Wednesday in Murray-Herrick Campus Center outside the cafeteria. The students will move the table Thursday and Friday outside to the quad. The club passes out orange ribbons to raise awareness and has information about MS and how to sign up for the MS walk in May.
Erin Weber said the goal of MS awareness week is to teach people about MS.
"It's important to educate people, not only about MS, but about chronic diseases and disabilities because I think there's such a taboo around talking about and understanding it that it's really hard for people to live with that in the world we live in today," Erin Weber said.
SAMS will also host a dance Friday night in Scooter's that is open to the public. Money from ticket sales will go toward buying St. Thomas t-shirts for the club to wear during the MS walk.
For Wind, MS awareness week and the club itself are important ways for students to show support for their friends and family.
"MS is a challenging disease to live for both those diagnosed and those around them," Wind said. "[This club] acts as a place where those on campus who have a family member or friend with MS can get together and share experiences."
Kelly Trussell can be reached at kmtrussell@stthomas.edu.