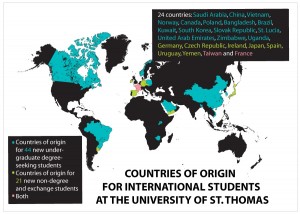 The rate of incoming international students is rising as students come from 17 different countries.
Among these countries are Vietnam, Norway, Canada, Poland, Uganda, Taiwan, France, Bangladesh, Brazil and Kuwait.
The largest group of incoming undergraduate students is from Saudi Arabia with 11 new students.
"That is the largest group of new undergraduate international students we have had in our university's history," said Christina Hilpipre-Frischman, director of international recruiting and admissions.
Four years ago, only 17 new international students attended St. Thomas compared to the 44 new students this year. Hilpipre-Frischman credited this to recruitment efforts.
"The reason for this is due, in part, to our increased efforts in overseas recruitment since 2007. We pride ourselves on the personalized attention that students receive at St. Thomas, and for us that begins with the admission process," Hilpipre-Frischman said. "International recruiting and admissions now conducts overseas recruitment trips at least four times per year in areas such as Norway, China, India, Latin America, Saudi Arabia and Southeast Asia."
Sophomore Miguel Velez said he came after a recruitment trip.
"A lady from international admissions came to my high school from UST. Everyone was going to the representatives from Miami, New York, LA, but I wanted to go to Minnesota," Velez said.
Velez said he appreciates the climate and people in Minnesota, adding that his hometown in Ecuador is very different than St. Paul.
"I love this whole experience. I can't get this in Ecuador. I do miss my culture, my family, my food, all those things, but I still love it here," he said.
Junior An-Chi Liao from Taiwan also misses her family. Liao said she gets homesick sometimes but still enjoys the university's campus.
"I like the scenery here. My room has the perfect view of the football field," she said.
However, Velez feels an improvement could be made in terms of the international student events. He said not enough students come to the events, and they're usually segregated.
"Asians will be with other Asians, Hispanics will stay together," Velez said.
Hilpipre-Frischman hopes international students will ultimately feel welcome at the university.
"Everyone in our office understands the commitment our international students have made," Hilpipre-Frischman said. "Hopefully that translates to the students feeling as though we are looking out for them every step of the way."
Geena Maharaj can be reached at maha8007@stthomas.edu.