Marriage may be slowly inching its way out of style, according to a new survey.
The survey conducted by the Pew Research Center last month found that of the 2,691 Americans surveyed, 39 percent thought marriage is becoming obsolete, up from 28 percent  when Time magazine asked the same question in 1978.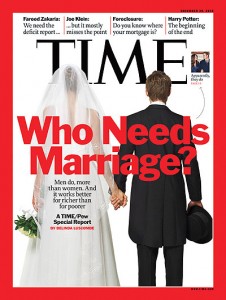 There are many ideas about why this change may be occurring in the U.S.
"The bottom line is that the reason we marry now is for love," marriage and family psychology professor John Buri said. "So, if that's the only reason people are marrying, then I'm not sure marriage is necessary."
The Rev. Erich Rutten said, "Marriage is not easy. There are a lot of people who have grown up with parents who have been divorced."
Rutten said more people are saying marriage is obsolete due to cultural changes.
"Society, I think, has a different idea of what marriage is," Rutten said. "It's about what I can get out of it rather than really what I can put into it."
Another reason could be how easy it is to get a divorce. It's harder to fire somebody than it is to get a divorce, Buri said.
"There is not another area in the culture where you take a contract and allow one person, one side of the contract, to unilaterally break the contract and get away with it, except for marriage," he said. "You have that kind of culture and it's going to change the way people look at marriage."
The survey did oversample adults who were divorced or separated, living with a partner, or had never been married and were not currently living with a partner.
Despite survey results, many St. Thomas students seem to still see marriage as an important part of life.
"I don't think it's obsolete," sophomore Kameron Kantor said. "I feel that a lot of people still want the security and the benefits of marriage, legally and emotionally."
Sophomore Kayla Stinson agreed.
"I think that pretty much every girl has thought about her wedding day at least to some extent," she said. "I don't think many girls are willing to give that up easily."
St. Thomas graduate student Callie Knudslien said many people's misconceptions about marriage may be based off media and pop-culture portrayals of marriage.
"There is more of an attitude where things like marriage and relationships are just based on 'I do it as long as it feels good and when it no longer feels good, it no longer is good,'" she said.
Despite Americans' changing feeling toward the institution of marriage, the survey also found that compared to other aspects of American culture, Americans are pretty optimistic when it comes to marriage.
"People have greater faith in marriage and family (67 percent) than they do in our educational system (50 percent) or our economic system (46 percent), or our system of morals and ethics (41 percent)," Buri said.
The divorce rate in the U.S. is approximately 50 percent, and last year alone 42 percent of all children born in the U.S. were born to women who were not married, Buri said. But he added that marriage won't disappear any time soon.
"Is marriage the only way that we can find love? No. As a matter of fact, it might not even be the best way," Buri said. "But in terms of the stability it provides the culture, no, it's not obsolete at all."
Colleen Schreier can be reached at schr1207@stthomas.edu.
This article was corrected at 12:30 p.m. Nov. 29. The article originally said the survey sampled unmarried people, but it should have said it oversampled unmarried people.