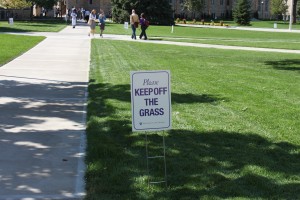 St. Thomas has unveiled a larger quad and while some students are excited for the extra space, others wonder why "keep off the grass" signs are posted.
"The signs will be ignored pretty darn quickly," junior Joseph McCauley said.
Roger Weinbrenner, ­turf technician for the grounds department, said he asks students not to ignore these signs.
"It just is not hard enough and solid enough for any traffic," Weinbrenner said. "The grass cannot handle the traffic without causing damage to it."
He added, "Students walking across the sod could ruin the sod, and plus students would probably ruin their shoes because they could easily sink into mud underneath."
The grounds department is not exactly sure when students will be able to walk or sit on the grass.
"It is all weather dependent," Weinbrenner said. "Ideally, I think our plan would be to have it ready for Tommie-Johnnie weekend."
The new sod requires more work, such as hand mowing, Weinbrenner said.
In order to maintain and care for the extra ground that has been added to the quad, the grounds department might increase student hours but will not hire more full-time employees. The department had to buy three hand mowers with bagging units for the new sod.
"With the grass being increased there might be some increase in fertilizing and labor cost," he said. "There will definitely be more labor spent in that area than was with the previous sod."
Junior Christina Keup plans to use the new space to read outside.
"The new quad is really pretty and has lots of places to sit," Keup said.
The newly renovated quad includes the John P. Monahan plaza filled with tables, chairs and benches.
McCauley believes there will not be any problems with people disturbing the plaza furniture.
"As long as it is well lit and there is a visible camera, it should be fine," McCauley said.
Exterior cameras have been placed on the Anderson Student Center building, but Public Safety Associate Director Michael Barrett does not see too many problems, such as theft of the plaza furniture, occurring.
"There are several other places on campus that have furniture," Barrett said. "We see very little theft of it. As long as we work together as a community there should not be too many problems."
The sprinkler system has also created a splash.
"The sprinklers are designed not to go over the sidewalk unless it is windy," Weinbrenner said. "Each area has been set up this year so they don't cross over the sidewalks like the old system did."
As of now, there will be some sprinklers going during the day, but the majority of the time the sprinklers will be set to run during the night.
"There will be more water cost," Weinbrenner said. "The new building is on city water because there is too much area to cover with our existing pump."
Olivia Detweiler can be reached at detw5520@stthomas.edu.