Alcohol consumption by college students is hardly a new topic, but a recent study suggests that students who are studying abroad drink twice as much as when they're on campus in the United States.
The study was conducted by a graduate student at the University of Washington who surveyed 177 UW undergraduate students about their drinking habits before, during and after studying abroad.
Students studying in Europe, Australia and New Zealand drank more than students studying in the Middle East, who actually reported a decrease in their drinking. Students under the age of 21 tended to drink more than their 21-year-old counterparts, and heavy drinkers abroad continued to be heavy drinkers when they returned home.
Putting things In perspective
There were a few limitations to the study. The researcher only surveyed a small sample of undergraduate students from the University of Washington. The study sample also included more women than the national average and was more ethnically diverse than the national average. But the researcher said he thinks similar results would be found at other American universities.
One of the main factors that influences how much a student drinks while abroad is the cultural influence of the area where the student is studying.
Junior Karin Norby is currently studying in London and she said students drink more while abroad, but in a different way than they would drink at home in the U.S. She said it's normal to have a beer with lunch or a glass of wine with dinner, but binge drinking doesn't seem as prevalent.
"It's a great philosophy though," Norby said. "The European relationship with drinking is far more healthy than [the U.S. philosophy]."
Another factor that contributes to a student's increased drinking is that most study abroad locations have lower drinking ages than the U.S. The study showed that students who were under 21 years old were likely to increase their drinking by 170 percent. The overall increase for all students was 105 percent.
"[Students] know their parents aren't there, and for a lot of them it's the first time that it is legal for them to drink, so it's pretty enticing," said junior Annie Magdziarz, who studied abroad in Ireland.
A third factor that could possibly lead to an increase in student drinking is that students are in a new environment. Henry Wechsler, a lecturer at the Harvard School of Public Health, said a "spring break" atmosphere is created on many study abroad trips because students are away from home. Magdziarz also thinks being away from home is a contributing factor.
"I think it's because when students are abroad, ties are cut … Just being in a new place is really exciting," Magdziarz said. "At least when I studied abroad in Ireland, the pub was where [students and locals] just hung out in town.
Although the study doesn't examine why students drank more while abroad, binge drinking did not appear to be an issue.
St. Thomas students abroad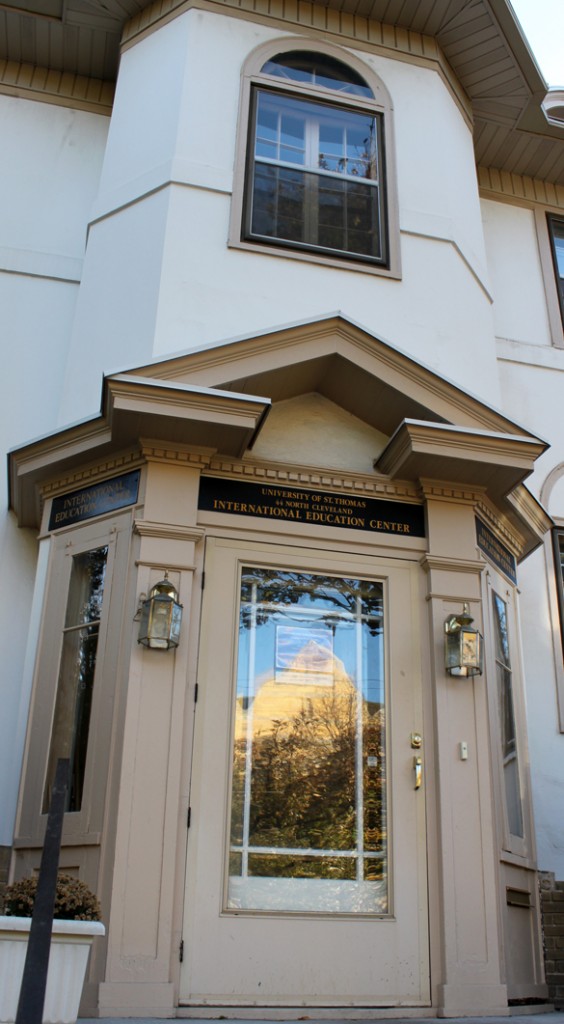 Sarah Spencer, International Education short-term director, said she does not know if the trends found in the study are similar to St. Thomas. However, according to the policies found in the student policy handbook, St. Thomas expects students to behave in a culturally-appropriate and respectful manner while studying off-campus.
St. Thomas prepares students to do this in a variety of ways. Each student is required to sign a study abroad agreement to show that they understand the university's policies and will take responsibility for their actions. In addition, students on conduct probation are not allowed to apply for or participate in an off-campus program.
"If students understood the cultural differences, they would realize that using alcohol as a drug in other places is frowned upon," Spencer said. "It is perceived as very poor behavior and is not socially acceptable."
According to Ann Hubbard, International Education interim director, St. Thomas has had to occasionally manage alcohol-related problems while abroad, but it is rare, especially considering how many students study abroad.
This may be so rare because according to International Education, more than two-thirds of St. Thomas students study abroad on faculty-directed programs and are in close contact with their professors. Students are informed that they can get sent home — at their own expense — due to their behavior on St. Thomas programs.
"The primary issue is not drinking per se but rather that there must be special vigilance or sensitivity to any behavior … that increases the vulnerability of a student or places them in a more dangerous situation," said Richard Rexeisen, a marketing professor and longtime study-abroad faculty adviser. "It is very important to build an authentic relationship based on trust and respect that can shared by everyone in your group while you travel abroad."
Although some reports suggest that study abroad students may be at increased risk for problematic alcohol use, this study suggests that there is limited empirical documentation of this risk. The present study only examined the factors associated with changes in alcohol use among college students studying in foreign countries.
"Bottom line, I have been very proud of the students that I have traveled with and would have no hesitation of doing so again in the future," Rexeisen said.
Kristi Battarbee can be reached at batt3378@stthomas.edu.