The O'Shaughnessy-Frey Library celebrated "National Voter Registration Day" with sweet and helpful incentives for students to vote in the upcoming election.
For the first time, the library held a day-long event that gave students the chance to register to vote in this year's presidential election. Librarians assisted students in filling out voter registration forms at a booth set up at the library entrance.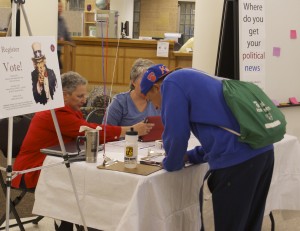 Library Director Dan Gjelten thought that the event was a proactive effort by the university to urge young student voters to head to the polls on Election Day.
"We see ourselves as providers of objective information, where the curious person or independent scholar can come and hope to find all points of view and all positions, and that's a huge library value," Gjelten said.
While passing through the library, Archbishop Harry Flynn gave his insight on the need to make an informed decision when voting.
"I think it would be very important for every American citizen to be informed about the platform of both parties," Flynn said, "and then make a decision which is thoughtful, and even prayerful, because this election is extremely important."
As an incentive for students to stop at the booth, librarians handed out patriotic stickers and cookies to those who took the time to stop.
Coffee Bene offered politically-themed drinks and baked goods during the day. The red, white, and blue "Hail to the Pumpkin' Chief" muffins and lattes grabbed students attention.
In anticipation for the election, the library created a webpage where students can learn more about the candidates and party platforms through different non-biased resources. Junior John Ankeny thought that the website is a great service.
"It's important to keep an open mind about who you're voting for. You shouldn't just vote for whoever your friends are voting for," Ankeny said, "so gathering all the facts, especially if you can find them in one easy place, would be a very helpful resource."
Junior Anne George said she also thinks that the library is the perfect place for students to get ready for the election.
"It's a great location to have registration information just because so many students use the library," George said. "It's a great way to get as many students aware of the deadlines as possible."
In an already heated presidential campaign, Gjelten said the library hopes to help students find the issues that really matter to them by providing as many objective and nonpartisan resources as possible.
"This is how an informed citizen votes responsibly," Gjelten said. "It requires us to do a little bit of homework."
Alex Goering can be reached at goer8777@stthomas.edu.