A Minneapolis-based company beckons for those who admit taking too much pride in music.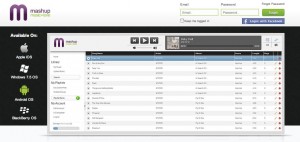 Mashup Media Inc. is a cloud service that will eventually offer its users unlimited storage for owned music, a profile to display taste preferences and an online store to purchase songs. The service has been offered since January and already has about 32,000 customers throughout 69 countries.
Mashup Media's CEO Haythem Khalil said the company has implemented a three-step plan to provide a multifaceted music experience by this June.
So far, the primary stage is complete, and customers are able to store music and access it from any device connected to the Internet. Two gigabytes of space is free, but unlimited space is available for $2.99 a month.
The second phase will be launched in April and will allow users to create a personal music profile called a Life Soundtrack. Other users will be able to access the Soundtrack, creating a simple way to interact with other users or share artists and song previews.
"Users will be able to build a Life Soundtrack profile that tells you where they've been, where they are and where they're going in their life through music. You'll be able to display visually your album cover library, pictures of concerts (and) video of your favorite artists," Khalil said.
The final phase will be completed in June and includes plans for an online store for purchasing music.
"Let's say both you and your sister are both on Mashup – if you see a song that she has on her Soundtrack, you can preview it," Khalil said. "If you like that song, you'll be able to buy it after phase three."
Junior Emilee Sirek is the company's senior marketing manager. A co-worker at a different job notified her of the position, and Sirek said she jumped at the chance to be part of the startup.
"I was one of the few people he knew in marketing and that had experience in the field already," Sirek said. "He told me it was a new company. I don't know anyone who would say 'no' to that."
Unlike similar music services, Mashup Media allows users to upload their own music instead of rent it. Due to the cloud source system, they are able to access the content from any location.
"St. Thomas has a majority of students that go abroad, and one of the cool things is that Mashup Media uses your music, and you can access that anywhere in the world. That's something that we offer that our competitors can't," Sirek said. "Another great access for college students is that it's so cheap."
Khalil said that the goal is to target people who are proud of the music they own and want to display it.
Sophomore Collin Bramigk said he uses other music applications, but he said that Mashup Media would be something he would check out.
Bramigk said he likes the idea of a developed music profile.
"It's kind of interesting; it'd be cool to make a profile to see what people listen to at different points in their lives," Bramigk said.
Some students, like freshman Chelsea Bolier, are intrigued by Mashup Media's business but would not necessarily join the user base.
"I generally don't pay for my music; I get it from my friends. I think it's a great idea, but I carry some of my music libraries with me already."
Mashup Media also seeks to take advantage of its location by signing with local record companies and festivals. The company is working on a deal to include lineups from the annual Soundset concerts.
"I'm always one to support local enterprises," Bramigk said. "I'm into underground rap. If they've got that kind of (local) music, it'd be a really big draw for me."
Bolier said broadcasting local music would be an appealing aspect of Mashup.
"I really like smaller bands that nobody's really ever heard of and making them known," she said.
In the future, Khalil said Mashup hopes to take on well-known competitors and become a large, Twin Cities-based company.
"We're looking to go from the user base we have now to take on the big boys in the music business," Khalil said.
Anastasia Straley can be reached at stra0669@stthomas.edu.