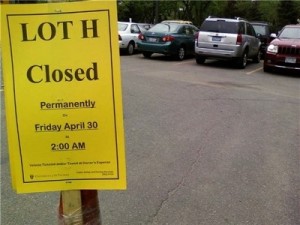 Commuter students who use Lot H will have to find a new place to park their cars starting Friday morning.
Parking Lot H on the corner of Summit and Cretin avenues will close at 5 a.m. Friday, April 30, for the construction of the Anderson Student Center.
Junior Ong Yang isn't thrilled about the change, but realizes it is something that has to happen.
"I'm not really happy about it," Yang said. "Parking on South Campus and walking will be the only choice I have, but what are you going to do?"
According to University of St. Thomas News Service, Lot H has existed in various sizes since the opening of O'Shaughnessy Hall back in 1940. The lot originally had 402 parking spots, but those were reduced last summer when construction began on the Anderson Athletic and Recreation Complex.
Senior Mike Spillman said the closure won't affect his parking routine too much.
"When I have class in the afternoon I park on South Campus anyway so I guess it won't be too much of a difference," Spillman said.
Public Safety placed an electronic sign near the Cretin Avenue entrance of Lot H notifying drivers of the closing. The only vehicles allowed in Lot H beginning Friday will be for construction.
St. Thomas News Service said once Lot H is closed, Opus crews will begin Monday, May 3, to install construction fences, remove trees and bring in equipment for construction of the student center.
Commuter students who now park in Lot H will need to make alternative plans.
Commuter permits are valid in several other surface lots as well as the Anderson Parking Facility. A map of the lots can be found by selecting "Commuter" in the "Find Parking" pull down menu.
Shane Delaney can be reached at smdelaney@stthomas.edu