Madison & Co., the new Aveda concept salon filling the vacancy left by Estetica, opened its doors in the Anderson Student Center on Tuesday.
While Madison & Co. offers many of the same services as its predecessor, manager Ashley Raleigh said it will offer customers an experience that is more than just a haircut.
"The last salon was giving $60 haircuts, and we give $25 to $30 haircuts. I can't afford $60 for a haircut, so why would you guys pay that? I would feel like I was robbing you," Raleigh said. "We're not a high-end salon, but we're not a low-end salon. We kind of try and stay in the middle because of the location that we are at."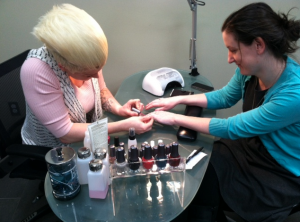 The salon features three haircut, two pedicure and two manicure stations, and it is open Monday through Friday, 10 a.m. to 7 p.m., with stylists working 40 hours per week, according to Raleigh.
"We're going to try our best and work around your class schedule," Raleigh said.
Along with the new St. Thomas salon, Raleigh runs three other locations in the metro area.
"We have four locations: one in the skyway in Minneapolis, one at 3M, one here and one at General Mills," Raleigh said.
Because of the salon's Aveda affiliation and his previous experience at Estetica, sophomore Cole Lulic said he might purchase hair products from Madison & Co. but wouldn't use its services.
"I'll probably go there to get hair products. It's close, and that's where I've used it before at Estetica. But as far as services, I've gone to the same place for six years, so I don't think I'm going to switch up," Lulic said.
Freshman Maria Post also said she is hesitant to switch stylists, but she said the variety of services is appealing.
"I have a hard time trusting other salons that aren't mine because I usually go the same person, but they have coupons. (My friend) and I were talking about getting manicures," Post said.
Sophomore Ashley Erickson said she chose to get her haircut at Madison & Co. because of its on-campus location and $10-off coupon for first-time clients.
"It's very convenient," Erickson said. "I saw that there was a coupon, and I needed to get my hair done anyway, so I thought I'd give it a try, and it's right here. I've been putting it off for a long time."
Erickson said she'd recommend the salon's services to other students because her stylist not only cut her hair but also offered her hair advice.
"She was telling me some things to do, like when I'm done blow drying my hair to do the cool setting, so that it makes it less fluffy, and it makes it shinier," Erickson said. "I think the prices are reasonable as well."