Senior Matthew Sullivan is the winner of the 2012 Tommie Award.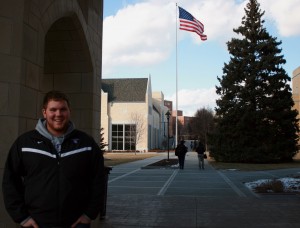 Sullivan, a finance major, received a phone call this morning from award coordinator Vern Klobassa, who informed him of his honor.
Sullivan said winning the award is both exciting and "very humbling."
"To be chosen for such a prestigious award, the Tommie Award, to be recognized is a pretty cool thing," Sullivan said.
The first people Sullivan called to tell about his win were his mother and father.
According to finance professor Mary Daugherty's recommendation letter for Sullivan, he is "an exuberant cheerleader for all things Tommie… and has fully embraced all that our great university has to offer."
Sullivan was also nominated by his roommate Neil McKeown for the award. In his nomination testimonial, McKeown described Sullivan's deep sense of compassion and "infectious personality."
"What sets Matt apart as a person is that he does not understand the concept of an acquaintance; everyone is a friend," McKeown wrote. "He takes a genuine interest in each person he meets."
Sullivan took to his Facebook account to post his thanks for all those who supported him during his four years at St. Thomas.
"I was fortunate enough to be chosen as the Tommie Award recipient this year, and I am truly honored to have gotten to know each and every one of you that has supported me during my time here at St. Thomas," Sullivan wrote.
Sullivan said he talked to senior Kiana Williams, one of the other finalists, earlier today.
"She wished me well, and I wished the same back to her," Sullivan said.
Seniors Greg Scharine and Jacob Wakem were the other two finalists. Scharine withdrew from the award voting earlier this month.
Sullivan said that he believes all the finalists are outstanding examples of what the Tommie Award represents.
"It was an honor in itself to be recognized with those students," Sullivan said.
Hayley Schnell, Kristopher Jobe and Anastasia Straley contributed to this report.