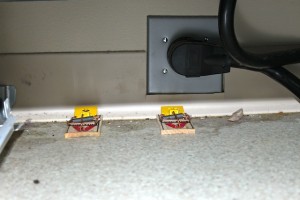 When Karlie Eaton, apartment coordinator, moved into her first-floor apartment in Flynn, she was surprised to find that she already had a roommate.
"I was sitting on my bed talking with a co-worker, and I saw a mouse run under my refrigerator," Eaton said.
Flynn Hall dealt with mice last year on the first floor and lower level. So far this year, only a few apartments on first-floor have been affected.
Residence Life director Aaron Macke said St. Thomas is working to remove the rodents.
"We work very close with physical plant who works very closely with this other company, and we try to get in and address it right away," Macke said. "They come back, and they continue to treat the space until there's no more signs of the mice."
Eaton was disappointed about the mice but said the problem was not too serious.
"It's such a new building, so it's kind of a bummer," she said. "But it happens, it's stuff that you just can't control."
Flynn is the only building that has reported mice sightings this year, but in previous years other buildings and residence halls have also experienced mice.
Junior Kelsey Hansen, who lives on first-floor Flynn, said that her roommate was living alone when she saw a mouse and was terrified.
"It was mid-August, and I got a call from one of my roommates that she had seen a mouse running across the floor," she said.
Macke said to prevent mice from entering a residence, keep food off of floors and take trash out often. If you see a mouse in your dorm or apartment, contact Residence Life or Physical Plant.
Madeline Carlson can be reached at carl8801@stthomas.edu.