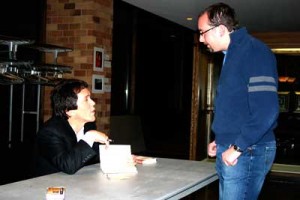 More than 200 people filled the O'Shaughnessy Educational Center auditorium Sunday night to hear best-selling author and columnist Mitch Albom talk about his latest book and how we are "all people of God."
Albom's "Tuesdays with Morrie" sold more than 14 million copies and was the reason junior Monica Jarvis attended the event.
"I read 'Tuesdays with Morrie' and I knew he wouldn't talk about the book but I thought it was great St. Thomas brought him to campus," Jarvis said. "I'll read this new book."
Albom shared portions of his new book, "Have a Little Faith," with the crowd. The book revolves around an eight-year journey for Albom about how community and faith unite people.
Sophomore Mo Berkowitz "loved" Albom's 1-hour long speech, calling it "truly inspirational."
"I had read 'Tuesdays with Morrie' and 'The Five People You Meet in Heaven' in a mother/daughter book club," Berkowitz said. "And I brought my parents tonight because Albom is Jewish and we're Jewish."
The Detroit Free Press columnist also hosts two radio shows and is a television commentator who appears regularly on ESPN and ABC. Albom has also founded three charities in the Detroit area.
Shane Kitzman can be reached at smkitzman@stthomas.edu