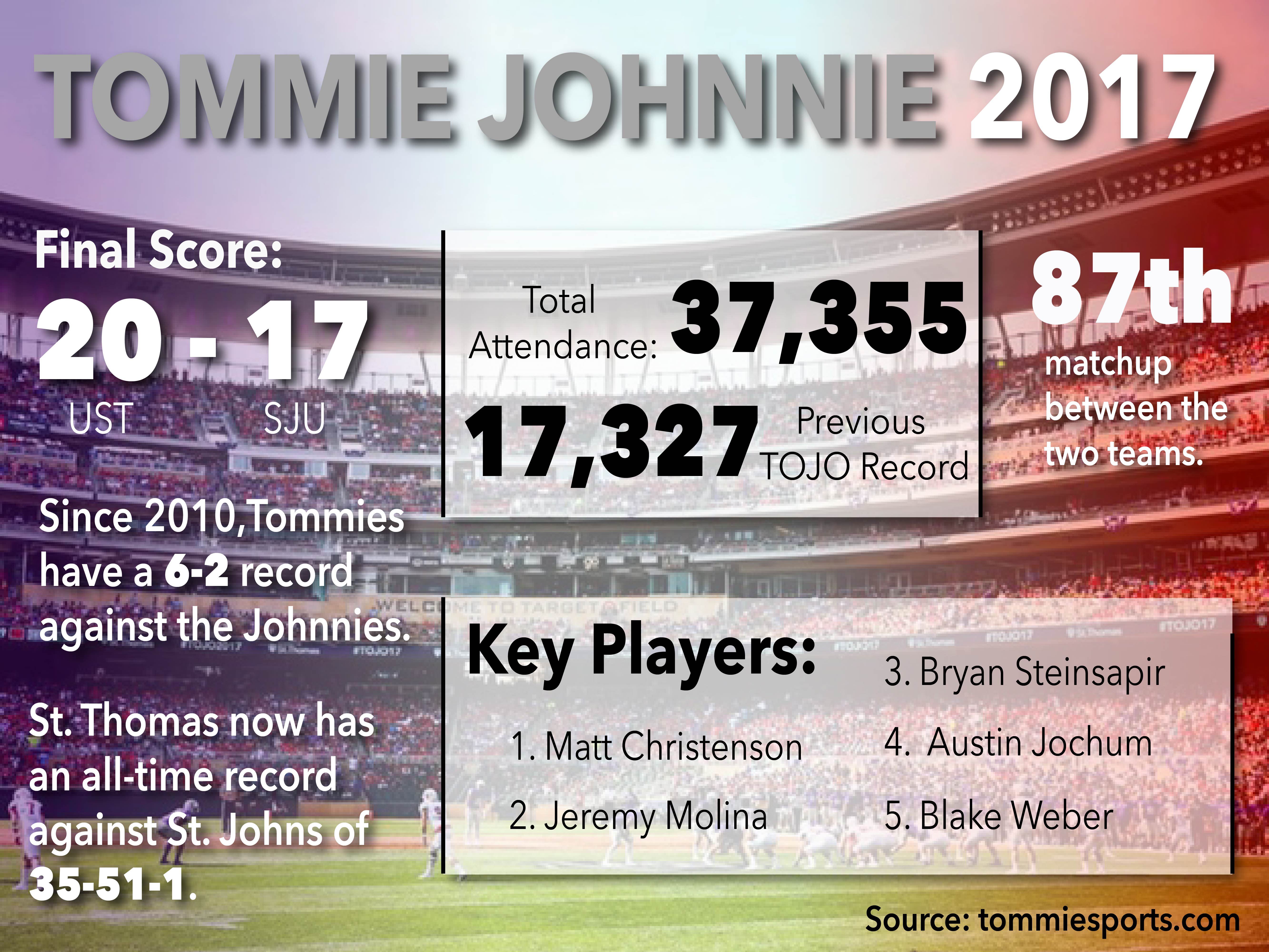 Despite being two weeks removed from the 87th matchup between St. Thomas and St. John's, many of those who attended are still reveling in the magnitude of the event.
In particular, many fans were left wondering if a similar event will be possible in the future.
"Absolutely," Michelle Morgan, St. Thomas associate athletic director, said in response to that inquiry.
She went on to say that St. Thomas "would consider doing it again in a heartbeat."
"It's just a matter of what's the best place and what's available to us," she said.
Morgan said St. Thomas has been questioned on if they will ever get the game to U.S. Bank Stadium, home of the Minnesota Vikings.
"U.S. Bank Stadium (seats) almost 60,000 people," Morgan said. "How do you recreate that atmosphere when you're already starting off with, potentially, if you went apples to apples, seats for 20,000-plus more people? I think that that's something to consider in terms of the atmosphere and the ambiance of creating that gameday that's so special."
Since U.S. Bank Stadium is somewhat of a long shot, Morgan has another venue in mind.
"I've had some preliminary conversations and discussed ideas with a place like Allianz Field with the Minnesota United," she said. "But that stadium is just breaking ground right now, so certainly way down the road in terms of discussions or what possibilities there are. But, if it ever worked out, that might be a great fit for us if we were to move it off campus."
St. Thomas President Julie Sullivan, St. Thomas Football Coach Glenn Caruso and Minnesota Twins President Dave St. Peter had the idea of bringing the rivalry to Target Field for a couple of years before serious conversations began in August 2016, according to Morgan.
A record-breaking crowd, a Major League Baseball stadium as the venue and a college gameday atmosphere seemed like the perfect combination for a game of this magnitude.
Aside from the high temperatures on September 23, Morgan agreed.
"The heat was a curveball." she said. "Not traditional football weather, that's for sure. But, overall I think (it was) a successful event."
Temperatures rose above 90-degrees during some portions of that day, but that did not stop the Tommie-Johnnie faithful from showing their school colors.
"There was a lot of red," she said. "But there was certainly a lot of purple."
St. Thomas sold around 4,000 student tickets, compared to St. John's at about 2,500. Both schools had the opportunity to purchase an extra 1,000 tickets. St. Thomas did choose this option while St. John's didn't, according to Morgan.
With students and the general public nearly maximizing Target Field's 39,500 capacity, and food and drink options around every corner, one can only assume how much money the event made because "the financials of this event … are not meant to be public," according to Morgan.
The university is not releasing where the profits from the game went, whether it be the Twins, St. Thomas, St. John's or elsewhere.
"The nature of the agreement is confidential," Morgan said.
For St. Thomas, the event became that much better when the clock struck zero. The Tommies beat the Johnnies 20-17 and took home the Holy Grail, the rivalry's coveted trophy.
"A win certainly makes it all much more sweeter," Morgan said.
While the win and large venue satisfied the needs of the crowd, Twins senior ballpark operations director Dave Horsman was most concerned with the condition of the playing field.
"The fact that a higher percentage of the football action took place in the outfield, rather than on the infield grass, was helpful," he said. "We did notice one bad hop over this last weekend, but otherwise things were pretty good."
If the Twins would have beat the Yankees in the Wild Card game Tuesday night, Target Field would have been host to at least one MLB postseason game. Horsman believes the field would have been in good shape.
"Our grounds department spent a lot of time making sure the grass was as hearty as it could be, and that it would be able to recover quickly," he said. "This involves a regimen of cutting, fertilizing, watering, sanding and overseeding."
"We had to make sure that the Twins … were on the road for enough of a road stand to make sure that it could be transformed from baseball to football, and then back to playable baseball conditions," Morgan said. "That's why you saw the infield as dirt, because there was no way to transition that over knowing that there was still Major League Baseball games to take place the following week."
Morgan added there is "more to come," but wants to enjoy the success of this one for as long as she can.
"We're still soaking in this one," she said. "It was a year in the making in terms of planning and we certainly — I personally — want to soak it in a little bit longer."
Gamiel Hall can be reached at hall0211@stthomas.edu. Design Manager Carrie Tronvold can be reached at tron3573@stthomas.edu.