St. Thomas has been updating the Murray-Herrick Campus Center since spring 2012, and now it has a new look with classrooms, offices and a new area for the Air Force Reserve Officer Training Corps.
Sophomore Mitch Bolkcom said he was surprised by the changes at first, but has since warmed up to the thought of taking classes in the same place he used to eat.
"I had to double check that my stuff said MHC," Bolkcom said. "It's a smart idea to finally have more classrooms for students because St. Thomas is growing."
MHC resident freshman Mary Janisch said the new classrooms were a benefit to her dorm.
"I feel like I'd go to class in my pajamas," Janisch said. "Hopefully next semester I can sign up for classes in there."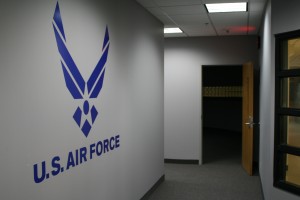 There are 11 classrooms in the newly-renovated MHC: two of them 80-person rooms and nine of them the standard 45-person classrooms.
"They're bigger and better organized for site lines than OEC classrooms," Gerald Anderley, associate vice president for facilities, said.
Many of the classrooms sport new Node Chairs.
"The new space-age classroom chairs are extremely mobile and can configure into tables and threes, all kinds of things," Anderley said.
ROTC gets new headquarters
St. Thomas' ROTC program is moving from its spot in Loras Hall on South Campus to the lower level of MHC in January. Anderley said the ROTC program needs a bigger space since it has grown exponentially within the past few years.
The new ROTC headquarters covers the old Scooter's, commuter lounge, Hairworks, and C-Store area. The construction is completed and will be filled with ROTC offices, a main reception area, a computer room, a library, two classrooms and a storage area.
Unit Admissions officer Capt. Rody Lageson said the St. Thomas Air Force detachment is looking forward to the new, larger classrooms in the MHC.
"It looks absolutely spectacular and frankly, we're looking forward to having a little more breathing room," Capt. Lageson said.
MHC projects in the works
Admissions is moving from its house on the corner of Finn Street and Grand Avenue to the first level of MHC. Students visiting the campus will be able to relax in the Fireside Room while they wait for an admissions officer.
Anderley said he has many other projects up his sleeve. He said the U.S. Postal Service in the basement of MHC needs an update.
"There are different ways that the post office is looking to create some different functions," Anderley said, "to bring it up to date and make it more modern than it was before."
However, this proposal is still in its infancy and has yet to be approved for funding. Funding could be approved for the project as soon as this year, but Anderley said the proposal may be competing with an academic program for funding.
As a freshman, all the new-ness in MHC seems normal to Janisch.
"Everyone remembers (MHC) as a cafeteria, but I just think of it as a classroom building," Janisch said.
Laura Landvik can be reached at land7854@stthomas.edu.