With frigid weather coming in the winter season, some people grow facial hair to stay warm, but others, like junior Zach Vaughan, do it for a good cause.
Vaughan encouraged others to do the same in support of the Movember movement, a worldwide effort to promote prostate cancer awareness that encourages men to grow mustaches.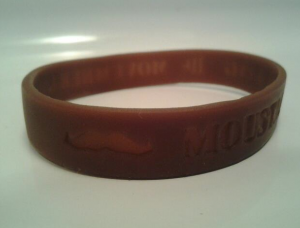 "I got involved through my sister's boyfriend two years ago. I joined their team called 'Midwest Mustache,' and we all grow mustaches together. I've been able to get my roommates involved," Vaughan said.
After signing up with the movement Vaughan received a package of fundraiser supplies, including brown mustache bracelets. So far, he has handed the bracelets out to those who are interested in the cause.
Vaughan said he originally had big plans for advertising his bracelets.
"I was hoping to set up a booth at a football game and sell the bracelets for $2," Vaughan said. "It hasn't happened yet, but I want to start raising a little more awareness on campus."
Sophomore Danny Glass took on Movemeber without having heard of Vaughan's pursuits or registering with any official group, but he said the bracelets are a great way to get people interested.
"I thought … about next year raising funds for a particular type of mustache style," Glass said. "I would have people vote and throw a donation in and then throughout the month work to perfect that particular style."
Vaughan said last year his team raised about $150, and it has been gaining momentum. He will not know how many donations his team has raised this year until Dec. 1, but he said he is optimistic about the outcome.
Jenna Birch said she was previously unaware that forgoing shaving had a cause.
"I think that if more people knew that aspect of 'No Shave November,' more people would participate," Birch said. "It is all friendly competition and just a fun thing to participate in for guys … women can support the movement by being informed and supporting guys to participate."
Vaughan said he encourages women to participate, and the Movember party package includes a sash to award to a supportive female.
"Girls can help raise donations, too. You've just got to be supportive," Vaughan said.
Anastasia Straley can be reached at stra0669@stthomas.edu.