Bloodsuckers have started to take over college dorm rooms across the country. No, not the vampire kind. These bloodsuckers are bedbugs.
Even though bedbugs have infiltrated other college campuses, including New York University, Penn State and Missouri State, St. Thomas officials are optimistic that St. Thomas will continue to be a bedbug-free community.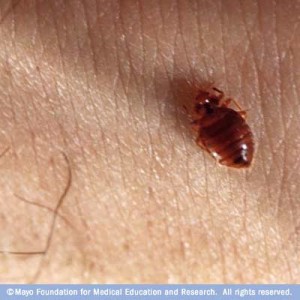 "I've worked here for six years and we haven't had a bedbug problem yet, which is very good," said Cari Fealy, associate director of Residence Life.
Bedbugs are brown, oval-shaped insects frequently found in multi-unit buildings, such as apartments or dorms, where residents are constantly coming and going.
They feed at night, and hide in cracks and crevices during the day. Bedbug bites can be hard to distinguish from other bugbites, but they are usually swollen red bumps resembling hives.
Fealy said there isn't a plan in place to deal with bedbugs if they infested St. Thomas, but if the problem arose, it would be handled immediately. She also had advice for students.
"Some kids go all semester without cleaning their bed sheets. And we do not recommend that," Fealy said.
Student views on bedbugs
Most students have heard of bedbugs, but few know how to identify an infestation or what to do if one occurs.
"I don't know anyone who has had them but I've heard a lot about them on the news and stuff. They're pretty gross," PSEO student Maurita Denley said.
Freshmen Devin Braatz and Rodney Nguyen live in Ireland Hall and said they don't know what they would do if the dorms were closed. Since they wouldn't have any place to go, they said they would consider pitching tents on the quad if it wasn't too cold.
Senior John Milisauskas said, "I don't know much about [bedbugs] … but there's a ton of bugs and bacteria in the world; what's so different about bedbugs?"
If you or someone you know has bedbugs, contact Student Health Services or your primary care physician for more information.
Kristi Battarbee can be reached at batt3378@stthomas.edu.