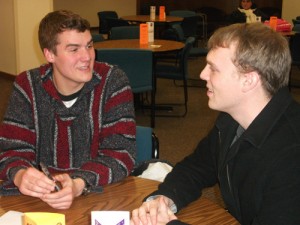 For those who wish Taco Bell had a delivery service, or yearn for a few Wendy's junior bacon cheeseburgers delivered to their door after a night out, fret no longer. Delivery Dominance is at your service.
Created by St. Thomas grad Kyle Iverson and senior Eric Crosby, Delivery Dominance's four-person crew delivers late-night fast food from nearby restaurants that don't have delivery services.
"Just our one company quadruples your options for delivery, other than pizza and sandwiches," Iverson said.
Delivery Dominance, available Thursdays through Saturdays from 7 p.m. to 3 a.m., takes orders and delivers to colleges around the St. Paul area, including St. Thomas, Hamline, Macalester and Concordia.
Delivery Dominance consists of Iverson, Crosby, St. Thomas senior Eric Tiffany and Concordia senior Duy Huynh.
Huynh, a finance major, manages Delivery Dominance's bookkeeping. Iverson, who earned his degree in marketing, is in charge of advertising and promotions. Crosby works as the operations manager, and Tiffany, whose GPS-enabled cell phone helps the crew find its destinations, is the head driver.
"We just kind of divide and conquer, trying to use everyone's strengths the best we can," Iverson said.
Iverson and Crosby admit the idea came from late-night fast food runs after partying or going out to local bars. One of their main goals is to make sure students who've been drinking don't get behind the wheel.
"We'll keep people who maybe shouldn't drive off the road, and we'll give people more options than just Jimmy John's or pizza," Iverson said.
How it all works
When an order comes in, one of the Delivery Dominance members records the customer's order, asks for an address and phone number, estimates a waiting time and gives prices. Delivery Dominance has prices and tax percentages for many of the restaurants around the area.
After the order is placed, the driver goes to the restaurant and pays for the food, fronting the customer's money until the food is delivered. Upon delivery, the customer pays the total cost of the food plus Delivery Dominance's delivery fee.
The fee is $3 for orders less than $10, and an extra 20 percent of the total order for orders above $10.
"It's a risk for us because if we pick you up a crave case from White Castle for $36, and we show up to your place and you're not there, we're stuck with this," Iverson said. "We just add that 20 percent like a convenience service charge."
Sophomore Linnea Bicking says that while the delivery service is a great idea, the charges may be a bit too expensive.
"If it's you and all of your roommates and you're splitting the delivery charge, I don't think it's that bad, but I probably wouldn't order it for just myself and a friend," Bicking said.
First weekend, first results

Iverson and Crosby said the company's opening weekend, which started Feb. 4, was a small success.
"We had more calls than anticipated," Crosby said. "We got about 20 calls, but we got 10 deliveries. A lot of people just called wondering what it was about."
Though business wasn't exactly booming, Delivery Dominance maintained an optimistic outlook for the future.
"We're definitely losing money right now, just because we had to invest," Iverson said. "We're probably still in the negative, but hopefully we can turn that around this weekend."
St. Thomas junior Joe McCullagh, who was Delivery Dominance's first customer, ordered Taco Bell early Friday morning after returning home from a local bar.
"It definitely got there fast, and the food was actually still hot," McCullagh said.
Potential legal issues
Last semester, St. Thomas junior Kamal Mohamed started a restaurant-like business out of his friend's house near campus, called Kamal's Kitchen. Later in the semester, Kamal's Kitchen was shut down for violating food and health codes and zoning laws.
Iverson and Crosby think Delivery Dominance won't have any legal problems.
"The biggest thing that we've kind of thought of as far as legal issues would be trademarks, because we're giving things away in a McDonald's bag," Iverson said.
The situation isn't black and white, according to Crosby.
"It's kind of a gray area because we're not really selling their food; we're delivering it," Crosby said. "We're not touching the food, we're not making the food, we just keep it in a thermos to keep it warm and bring it to them."
Mohamed agrees with the Delivery Dominance partners, adding that fast-food places like "McDonald's, Burger King and Taco Bell would love to know that there's a company like that out there."
Success?
St. Thomas accounting professor Randi Helgeson says Delivery Dominance needs to increase their pricing if it intends to maximize their profits.
"If you look at the actual cost [of delivery], I'd say they're losing money," Helgeson said. "I would personally probably charge $5.
She also recommends that Delivery Dominance uses a flat delivery charge instead of its current scaled fee.
"At $3 [per delivery], I'd say it's a business that doesn't make any sense financially. At $5 or $10, it might make more sense," Helgeson said.
In the near future, Delivery Dominance hopes to become a multifaceted business. For a flat rate, the group will serve as a sober cab, dropping people off at bars at the start of a night. The crew is also working on hiring more drivers for those busy weekend nights.
"We're still kind of second-guessing ourselves and figuring out the order of operations that we need to do things, but once we get this down, we'll definitely expand it," Iverson said.
During Delivery Dominance's second weekend, which started Feb. 12, Iverson said, "We were steadily busier than the weekend before. We probably had like 12 orders."
Miles Trump can be reached at mttaylorjohn@stthomas.edu.