The St. Thomas Veterans' Association has been lobbying for an on-campus veteran's center for more than a year, but administration officials have said it is out of the question.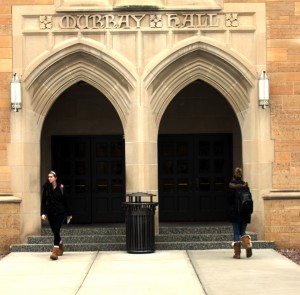 Senior David Sepeda, president of the STVA, approached Vice President of Student Affairs Jane Canney last year with the idea.
"I asked what was going to happen with some of the space that was going to open up in Murray-Herrick," Sepeda said. "She didn't deny it, she said it sounded like a good idea."
However, Director of Student Engagement Vern Klobassa said the university does not have any plans to create a veteran's center.
"We have a lot of specific special student populations that all have needs and wants, and we are trying to figure out how to best support those specific populations in the grand scheme of our conviction to personal attention at the university," Klobassa said.
Senior Matt Scott said he thinks the veterans deserve a spot, even though he has never served in the military.
"I think a lot of groups on campus already have areas," Scott said "There is an inter-cultural center, I know HANA has a room specifically for them. I can't imagine how difficult it must be for them (veterans) to re-acclimate to, I guess you could say, normal life."
Klobassa said balancing the needs of students is challenging for the university.
"Like transfer students and various ethnic and religious groups and our many clubs and organizations–we don't have the capacity at the university to create a center for all of them," he said.
Sepeda stated that his goal, and top priority as president of the Veterans' Association, is to ensure that the issue remains at the forefront for veterans at the university.
"I think it would be a tragedy to not have a veteran's center here at St. Thomas," Sepeda said. "(Military) is in the institution's history, from the time it was founded, through Father John Ireland. It is the right thing to do."
Klobassa said the St. Thomas Veteran's Advisory Committee, made up of various representatives from offices throughout the campus, meets on a regular, continual basis to "make St. Thomas the most welcoming community possible for our student veterans."
Patrick Roche can be reached at roch6667@stthomas.edu.