An expansion of the tunnel system is not planned for the walk between the new buildings on St. Thomas' St. Paul campus because of underground barriers and cost limitations, said Gerald Anderley, associate vice president for facilities.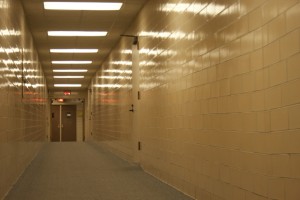 Many students said they expected to have underground tunnels built with the recent construction of the Anderson Student Center and the Anderson Athletics Recreational Complex as a way to stay out of the cold.
"I was hoping they would (build tunnels)," junior Jeremy Ringler said. "They're somewhat of a necessity."
Although Anderley did not completely rule out the tunnel expansion, he said the project would involve a lot of work.
"Anything's possible," Anderley said, "but you have to have enough money, enough planning and enough foresight to get that all done."
Anderley added that if St. Thomas were to take on the project, the university's plumbing system would be an issue.
"We've got 13-inch water mains, 42-inch water sewers and a 72-inch sewer that run under the campus," Anderley said. "You've got the electrical infrastructure that runs under, 13800 volts, and then the sewer system."
Tunnel costs are steep
Although some students see the tunnels as a convenience, Anderley said they would come at a steep cost.
"We've looked into extending the tunnel system, but under this economy, to put that much money into tunnels and take it away from academic programs doesn't make a whole lot of sense," Anderley said. "Especially when students would like to have less tuition instead of more."
Anderley said the physical plant's previous plan for a tunnel system fell through and came at an astonishing cost.
"We did look at putting a tunnel from the new Anderson Athletic Recreational Center to Aquinas, and that came up to a little over a million dollars for that short tunnel," Anderley said.
Some students, like freshman Taylor Zimmerman, said they agree that the cost is too high.
"I don't see what the point is with tunnels," Zimmerman said. "It's a lot of money to be out of the cold for two minutes."
St. Thomas has a tunnel system for utility use that runs throughout each of the buildings on campus.
"Occasionally students get into (utility tunnels) and party. We really don't like that,"Anderley said. "They have steam, water, condensation, electricity, electrical gas, all that stuff."
Some students also said they are frustrated there is no tunnel system from North to South Campus, but there are no construction plans underway for a project of that caliber.
"I hate walking across traffic from North to South Campus," Zimmerman said. "The drivers are rude."
Anderley said that South Campus also has major infrastructure issues that prevent the university from building tunnels.
"There's a drop shaft (used to drain rain water) right in front of The Binz… that drops 180 feet and from there goes into the river," Anderley said.
However, Anderley said if a major housing unit were to make its way to South Campus, the project may be more feasible.
"It may be a possibility if they were ever to build major housing on (South) campus and take down Grace, Cretin, and that area to put a tunnel system in between those particular buildings," Anderley said. "Maybe even to Brady Education Center, which isn't a very good building, and it might come down at some point."
Other than the cost and infrastructure, Anderley said interest is also a factor when putting in a tunnel system.
"Whenever you put in a tunnel system, whenever you do major construction, people are all for it until it begins to inconvenience them," Anderley said. "Then they don't want to do it."
Laura Landvik can be reached at land7854@stthomas.edu.