Pauleen Le, Video Reporter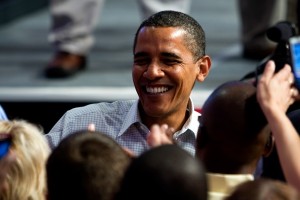 President Barack Obama's push for support on his health care proposal at the Target Center in Minneapolis was more like last year's campaign rallies than the congressional address given Wednesday, Sept. 9.
Complete with echoing screams, arena-wide cheers and even concessions, Saturday afternoon's address was even more so like a pep rally.
"I don't know if any of you caught it on television, but the other night I gave a speech to Congress about health care," Obama said. "I can already see that this crowd's a lot more fun."
The arena was almost full with an estimated 17,000 people. The crowd was energetic, and made up of all demographics. Parents brought young children who cheered alongside other supporters. Teenage girls screamed when Obama walked onstage.
"I feel like a dad surrounded by 12-year-old girls waiting to see the Jonas Brothers," said St. Thomas junior Adam Mallory at the rally Saturday afternoon.
Other St. Thomas students joined the masses at the Target Center, such as seniors Stephan Schriver, Ryan Lill, Melissa Hass and Erin Lyle, and 2009 graduate Brent Larson.
During his speech, Obama recognized Minnesota as a model for health care, specifically pointing out the Mayo Clinic in Rochester, Minn.
"We have long known that some places, including Minnesota, offer high quality care at costs below average. Look at what the Mayo Clinic is able to do," Obama said. "…We want to help the whole country learn from what Mayo is doing. We want to help the whole country learn some of the good things that are going on in Minnesota, that will save everybody money."
Obama directed the 47-minute address toward middle-class workers by addressing their concerns about health care.
"If you are one of the tens of millions of Americans who have no health insurance, you live every day just one accident or illness away from bankruptcy," he said. "And contrary to some of the myths out there, these are not primarily people who are deep in poverty. A lot of those folks are on Medicaid. These are people who are working every day. These are middle-class Americans."
Obama also stressed multiple times that "we are closer to reform than we have ever been." By tying in President Roosevelt's health reform, and reform attempts by other presidents, Obama said that he would do his best to make changes to the system.
"I may not be the first president to take up the cause of health care reform, but I am determined to be the last," he said, using a line from his Sept. 9 speech to Congress. "We are going to get it done this year."
Obama said he wouldn't sign the plan if it would add to the deficit, as it has risen to new highs because of the war and the economy. He added that most of the plan could be paid for by savings in the health care system as it is now.
"I will not sign a plan that adds one dime to our deficits, either now or in the future," he said. "No ifs, ands or buts."
Zach Pagano contributed to this report.
Mary Kenkel can be reached at mlkenkel@stthomas.edu