On-campus cable programming was upgraded this semester, but only for students who have HD televisions.
Students received an e-mail Sept.10 notifying them of the change that "some HDTV" channels would be available depending on TV and antennae. There was no mention of a change in signal quality, but some students have noticed a slight change.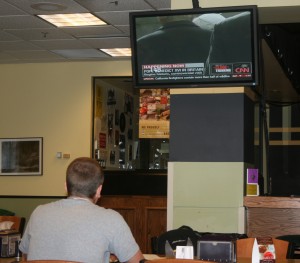 "Discovery [Channel] flickers sometimes," Dowling Hall resident Susha Berg said.
But the programming switch hasn't affected other students.
"I haven't noticed anything," Grace Hall resident Katie Floyd said.
The reason for last week's e-mail was to inform students of the possible HD availability, according to Nate Shuff, IRT digital video integration coordinator. Shuff says that Comcast, the university's cable provider, has been upgrading customer cable boxes to a new system this year. The HD component of this new package was a "programming error" from Comcast. St. Thomas needed the change due to a "little red scrolling bar" at the top of the television screen when receiving signal, Shuff said.
Shuff said he is "not aware of the fuzzy signals" some students have reported. Shuff also said that the new cable box would not be the cause of the fuzzy signals. When Comcast works in close proximity to St. Thomas, the network is sometimes affected, Shuff said.
"We're at the mercy of Comcast," he said.
Shuff did not know which HDTV channels the university currently has, and he said they will likely change if Comcast installs a new type of cable box for St. Thomas.
Nathan Spencer can be reached at spen9079@stthomas.edu.