Across the nation, more than one in five college students take at least one class online during their college career. With more online options available, this number is expected to increase.
At St. Thomas, Michael Jordan, director of undergraduate academic affairs, isn't concerned with the national trend. Although Jordan has seen an increase, he said he usually only receives about a dozen requests for online transfer credits every semester.
"It's an issue that we need to be attentive to but I don't know that it is a large problem at the moment," Jordan said.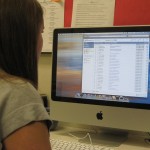 The state of Minnesota has been pushing the state college system to offer more online class options. This means there are more online opportunities each year for students like junior Katie Ryan.
Ryan has taken two online classes already and said she wouldn't mind adding on a few more. She said her two classes cost $500 and $300, much cheaper than a St. Thomas equivalent where a four credit class would cost more than $3,600 for an undergraduate student this fall.
"My parents were definitely happy that I saved them money and I was happy because now I am going to have less loans to pay off," Ryan said. "St. Thomas is so expensive."
St. Thomas classes: not on a computer near you
After a 5.9 percent tuition increase for this academic year, St. Thomas is still not considering offering online classes at a discount rate. Even though faculty time in teaching an online class is significantly less than in a traditional setting, Jordan rationalizes that the facilities are already built and professors likely won't have much more time to teach additional classes. Jordan said it is all about finding the right balance between efficiency, cost, and quality. And as far as he can tell, online classes do not fit into that equation.
Music 115 is often the only online class offered at St. Thomas with the addition of a philosophy 214 course that was previously available. Even though both were online, they still cost the same as a regular in-classroom course.
Ryan said she would take an online class if it were offered by St. Thomas, but doesn't understand why it wouldn't be at a cheaper price.
"I think that is ridiculous because we are not paying a professor to be there the whole time," she said. "We're not paying for the space, like the classroom area to use."
Even though cost is the biggest issue for many students, convenience also plays a role.
"I thought online classes were more convenient because I could just work on things and go over the lesson plans whenever I wanted," Ryan said. "So if I wanted to do it late at night because I was busy all day doing other homework it was fine."
Online offerings not making the cut
Jordan said it is much easier to use an online course to fulfill elective credits, but the department chairs have the final say when major credits are involved. Even so, he said he doesn't see many core requirements that are regularly accepting online courses.
When deciding whether to accept an online course, Jordan said it is hard to find an equivalent to a St. Thomas class, which means many of these requests are denied. Aside from the academic integrity of the course, Jordan said St. Thomas stresses active classroom involvement, something he doesn't think you can get with the click of a mouse.
But with mandatory online discussion boards that provide direct communication with both the professor and the class, Ryan doesn't think she is missing out.
"I probably talk more [online] than I talk in some classes here anyways," she said.
But Ryan added that it is always about finding the perfect balance.
"I wouldn't suggest taking like half of your classes or anything, but if you just take a couple, I don't see why that would be a big deal," Ryan said. "They are getting enough money from our other classes as it is."
Ashley Bolkcom can be reached at awbolkcom@stthomas.edu