Of 66 aspiring entrepreneurs who submitted their ideas to the Fowler Business Concept Challenge, senior Keona Tranby took home the $10,000 top undergraduate-division scholarship prize Friday for her business concept Pink Bow City Fashion Truck.
Tranby said her concept involves a traveling fashion boutique. She started her business via a website, pinkbowcity.com, in April 2012. Tranby already has 20 fashion designers working with her, and she said there are even bigger plans ahead for her company.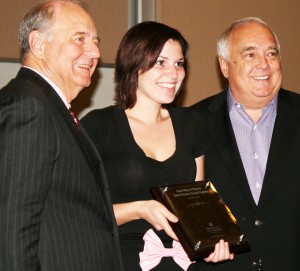 "I feature handmade clothing from my designers. It's either handmade here in the U.S. or in Europe, and then I sell their clothing on my website," Tranby said. "My idea was to launch a fashion truck to expand my company in order to bring my clothing directly to my customers in California."
In terms of the fashion inside her truck, Tranby said her collection is inspired by a "pin-up" vintage look.
"It's pin-up inspired for now because that's what's trendy and it's personally what I enjoy. But that will change and evolve as styles change and evolve," Tranby said.
Tranby said she was emotional and surprised when was announced the winner.
"I almost started crying," Tranby said. "I had to hold back tears, I couldn't believe it."
As for the near future, Tranby said she plans on continuing to make her business plan a reality after she graduates in December with an entrepreneurship degree.
"I'm moving to California next spring, very early summer of next year, and I plan to do everything in my power to make it happen," Tranby said.
To Tranby, California was an obvious market choice for two main reasons.
"The weather for a fashion truck is only really reliable in California for now, but also that's where my market is," Tranby said.
Aaron Engler received first place in the graduate competition with his business idea "Coach." Engler described his concept as a dashboard for restaurant managers to make their information more organized and accessible.
"It works on a phone tablet or computer. The problem that managers have today is that they've got way too much information in way too many different places, so my tool puts all of the information together for them," Engler said. "It 'coaches' them how to fix problems."
Like Tranby, Engler said he was also excited about his win.
"I didn't think I would win, and for best presenter too, so that was absolutely amazing as well," Engler said. "It's an honor because it really is going to benefit me a lot."
While Engler was awarded best presenter in the graduate division, the best presenter award for the undergraduate division went to sophomores Mariann Kukielka and Jesse Stone. The two dressed up as superheroes to support their concept "Superhero Simulation Service," a birthday party planning business that stresses the importance of making children into well-moraled individuals.
"I had a button-up shirt on, and then I'd go 'ka-bam' and I ripped my shirt off (to reveal a spiderman costume)," Stone said. "We really told a story with our presentation."
Kukielka said she was honored to receive not only the best presenter award, but second place in the competition.
"I just burst out in tears because I was just so thankful and so honored and humbled, because when you think about it, Ron Fowler was right there," Kukielka said.
Ron Fowler, the St. Thomas alumnus and competition's namesake, flew in from California to help judge the competition. Fowler is the CEO of Liquid Investments Inc., and owner of the San Diego Padres Major League Baseball team. This challenge was named after him because he was generous enough to make this competition a reality.
Fowler said he enjoyed being there for the competition.
"To see all the energy and the passion from these students with their ideas–it makes me feel young again, which is tough to do," Fowler said.
Fowler said he highly believes in the benefits of entrepreneurship.
"I think entrepreneurship is going to be what drives the economy," Fowler said. "You've got to take the risks. You have to take the chances. It doesn't always turn out the way you want it to, but if you don't try, you're not going to reach success."
Kayla Bengtson can be reached at beng2004@stthomas.edu.