Political signs have disappeared or been damaged in the area surrounding St. Thomas in the past month, and neighbors have been placing blame on some St. Thomas students.
This is not a new phenomenon for university relations. Neighborhood Liaison John Hershey said he has already received 10 complaints in October accusing students of stealing or damaging political signs. Hershey said this year, the "Vote No" signs are the most widely targeted.
"They've disappeared in mass up by the state fairgrounds. They've disappeared on my block five blocks from campus," Hershey said. "A couple weeks ago over in Minneapolis, somebody is putting chainsaws through the middle of them, so it's not just around here."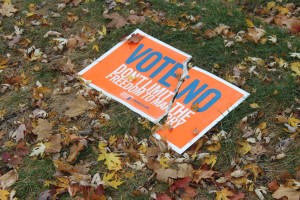 St. Paul resident Katherine Werner lives four blocks down Cretin Avenue from St. Thomas' South Campus. Werner placed a complaint Oct. 22 to Hershey about her signs being damaged, calling the situation "frightening."
"This damage to my personal property in the middle of the night was the first time I've had some serious vandalism," Werner said. "This doesn't compare to loud student parties or beer bottles in my yard the next morning."
Around 2 a.m., Oct. 21, Werner reported a pounding noise coming from outside her window. That morning, she discovered her President Obama sign had been knocked over. Underneath the sign were six other smaller political signs, all attached with a metal pole on each end.
"The thought that someone would trespass, walk on somebody's property to violate their civil right to free speech is astounding for anyone to do," Hershey said.
Students have been caught committing similar crimes already this year. Hershey said some students have been identified and reprimanded for stealing political signs.
To Hershey, the neighborhood residents pointing blame at students is not unexpected.
"(St. Thomas students) are an easy target. We're a sitting duck," Hershey said. "It's easy to point the finger of blame, and we don't know for sure. There's a reasonable chance."
Sophomore John Kumerow said the university should cut the students some slack.
"It's obviously not serious if one person steals it as just sort of a joke," Kumerow said. "But if they find people continuing to steal and other things like that, it should get to be serious to a certain extent."
Junior Mylissa Bringgold said she does not believe this crime should be taken very seriously.
"It's a sign in a front yard. I think there are more important things to worry about like bikes getting stolen and drunk kids walking around campus and harassing other kids," Bringgold said. "I don't think it's an issue at all."
Neighborhood relations continue to be a struggle for Hershey in wake of issues like this.
"Even if we're innocent, we take a couple of steps back because there's somebody else out there who believes that our students are doing something wrong," Hershey said.
Werner explained that even though she is upset with the few students she believed committed this crime, she understands it is not all of St. Thomas that damaged her signs.
"Clearly this is not every St. Thomas student doing this sort of thing," Werner said. "Like most acts of violence, meanness, disrespect and illegal activity, it's usually done by a select few who think they can get away with it who are arrogant enough to feel that that's their duty."
Laura Landvik can be reached at land7854@stthomas.edu.