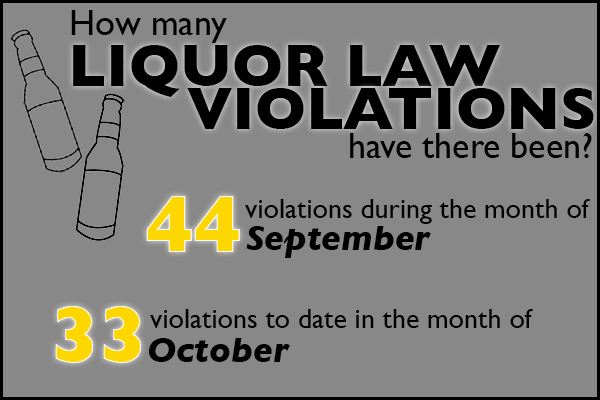 St. Thomas students learned the effects of alcohol in plain terms: by watching people drink.
Residence Life's program "Power Hour: Test What You Know About Alcohol" presentation on both Monday and Tuesday nights featured a live demonstration of three legal-aged adults consuming alcohol for one hour, completing several Breath Alcohol Content tests along the way.
The three representatives each consumed around four drinks of their choice to show the effects of the alcohol on their behavior and their rising BAC levels.
Ireland Hall Area Director Nate Peterson said the event was not meant to glorify alcohol.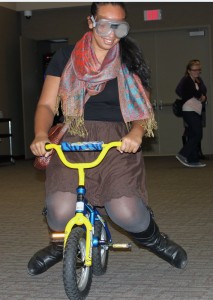 "In no way, shape or form did this event condone underage consumption or condone drinking," Peterson said. "We really wanted to…show what a BAC does to an individual with one hour of drinking."
Freshman Mercedes Vetter said the live alcohol consumption demonstration was effective.
"It actually showed you the effects in these three different things," Vetter said. "I thought it was funny, but it was very realistic."
In between the volunteers' benchmark breathalyzer tests, students shared personal negative experiences with alcohol, and Public Safety and the St. Paul Police Department shared facts about the volume of different alcoholic beverages.
Vetter said the stories are what will stick with her.
"They (Power Hour staff) connected with the students, and they had Public Safety share a bit of their own stories, which made them seem more human," she said. "They (Power Hour staff) understood where (students) were coming from, yet they were still saying that it's against the law."
Sophomore Brandon Rodgers said he learned important facts about alcohol.
"They went over how much a shot is, how much is actually in a can of beer, how much do students actually drink in a night and what does BAC mean," he said.
Rodgers also said he thought that it was especially good for freshmen to learn about alcohol consumption.
"I think it was a good learning opportunity for a lot of the incoming freshmen to learn about 'Yeah, we know that students drink. It's a fact of college life, but here's some ways you can manage alcohol safely,'" Rodgers said.
Peterson said "Power Hour" in not a new concept for the university.
"This is actually based on a program that Residence Life did about five years ago, so we kind of resurrected something and brought it back," Peterson said. "Based on rave student reviews that we had before, they actually really enjoyed most of the topics."
Students also had the opportunity to wear alcohol impairment goggles and do relay and remote-control car races after the demonstration.
Peterson said Residence Life was looking for a "new and fresh" way to communicate with students about alcohol.
"We're really continuing to look at trends with students…and how we can continue to be on the cutting edge," Peterson said. "So we really feel that this large-scale programming, where we kind of bring all the students together…is a really cool, unique way to focus on students."
Baihly Warfield can be reached at warf3860@stthomas.edu.