St. Thomas students can breathe easier after President Barack Obama signed bipartisan legislation into law Friday that will keep interest rates on certain college loans from doubling.
The bill holds interest rates on Stafford loans for undergraduate students at 3.4 percent for the next year.
"I think that the student loan bill is a good thing. The more that Congress can do for students, the better," junior Annie Longfellow said.
Had the bill failed, an estimated 7.4 million students would have faced increased rates that would have added an average of $1,000 to the cost of each loan.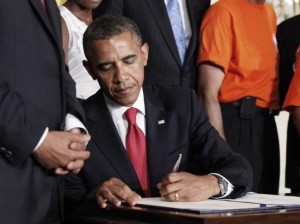 The measure passed 373-52 in the House of Representatives. Minutes later, it passed 74-19 in the Senate. Some Republicans argued the bill was too expensive and that the financial markets should set lending rates.
"I definitely think the bipartisan passage of the measure to keep interest rates low is a step in the right direction," junior Chris Gelke said. "But it can't stop efforts to solve for the root of the problem, which is the increasing cost in post-secondary education across the country."
The president toured college campuses this spring, making student loans an issue. Obama looks to capture student voters, who were a driving factor in his 2008 presidential victory.
GOP presidential frontrunner Mitt Romney said he supports the bill.
Gelke said it was "a good political move" for Obama.
"It will help Obama in November with the youth vote, but the real solutions are forthcoming," Gelke said.
Longfellow added, "Cutting students a break is going to help out everyone in the future, and they should continue to do so."
Alex Goering can be reached at goer8777@stthomas.edu.