With a record-breaking 1,521 students, the class of 2014 is the largest freshman class in St. Thomas history.
But more students doesn't mean lower standards for high school records. This year's freshman class outperformed last year's class on academic measures. The cumulative GPA of this year's class is 3.54, compared to 3.52 last year. The average ACT score of this year's class is 25.49, compared to 25.42 last year, according to Marla Friederichs, associate vice president for admissions and financial aid.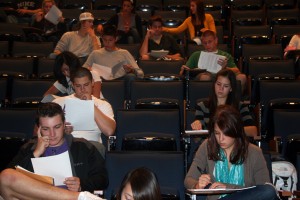 "The freshman class is among the strongest academically in our history," said the Rev. Dennis Dease, university president, in his convocation speech Tuesday, Sept. 7. "We have 25 valedictorians and five National Merit scholars."
Some of the challenges for St. Thomas administrators and professors were keeping class sizes down and ensuring class availability.
"We work hard to make sure that these students have four classes that meet their needs on their schedule at the end of orientation in July," said Terry Langan, associate dean of the college of arts and sciences.
Although St. Thomas is the largest private school in Minnesota, it boasts a student-professor ratio of 15 to 1, with an average undergraduate class size of 21, according to St. Thomas' website.The university has taken measures to ensure that this ratio does not change this school year, Langan said.
To accommodate the large incoming class, 29 lecture sessions and seven lab sessions were added. Ten of these 29 lectures are freshman English sections, and nine other departments have added at least one section. The new sections created 200 additional seats for the freshman class, Langan said.
"Early on it was decided that rather than increase the size of a section of freshman English from 20 to 25, for example, we would instead add sections and keep the class size at 20 students," he said.
St. Thomas hired 27 new full-time professors this year, compared to the 34 permanent hires last year, according to the Fall 2009 Integrated Postsecondary Education Data System human resource report. Because there wasn't an increase in full-time professors, professors have agreed to teach more classes this semester to accommodate the large freshman class, Langan said. The number for 2010 adjunct faculty hires was unavailable.
To combat the strain of the large class size on the science department, an evening chemistry lecture will be offered for the first time this fall, and a Saturday morning biology lab will again be offered as it was for the first time last year.
Dining services has also made accommodations for the large class, including expanding the service lines on weekends and hiring additional student workers.
"There are challenges with additional student undergrad residents and School of Divinity [being] close to capacity," said Todd Empanger, director of dining services. "In our opinion [it is] a good problem for the university but an opportunity with some challenges for our dining staff."
Dan Cook can be reached at cook9156@stthomas.edu.