The 11th annual Poetry on the Patio event took place during convocation hour Tuesday, but it wasn't on the patio. The readings were held in the library's leather room because of rain.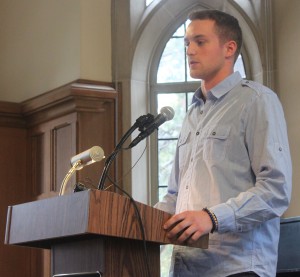 Library Director Dan Gjelten hosted the event, which included readings from senior Tommie Award winner Daniel Carr, sophomore Joe Docter and staff member Laurie Dimond.
Dimond read four poems, including Minnesota poet Bill Holm's "Solstice Poem for Kristjan Arnason," which she chose because of the weather.
"This poem in particular struck me last week when everybody was complaining about yet another snow, because I woke up and thought it was really lovely," Dimond said. "I wanted to capture that moment, that wet, beautiful snow."
Docter, who said folk music led him to his interest in poetry, read "Face West From California's Shore" by Walt Whitman, because Docter said he can relate to the poem's "search for life's purpose."
"I don't know what my calling is, or more practically what kind of career I may want," Docter said. "But like the narrator of the poem, I plan on enjoying the experiences as I travel along my own journey."
Sophomore Sarah Covington chose to read "Stars" and "The Outcast Mother," both by "Wuthering Heights" author Emily Bronte, because she said many people "mistake [Bronte] for just being really grotesque and angry."
"With the life that she led, she finds the beauty in darkness and in a lot of things other people can't see," Covington said.
"That drains the blood of suffering men;/ Drinks tears, instead of dew:/
Let me sleep through his blinding reign,/
And only wake with you!" Covington recited from the final lines of "Stars."
Eleven people participated in Poetry on the Patio, and a live stream of the readings will be available through the St. Thomas website.
The following is the list of readers and poems:
-Dan Gjelten read "This Morning" by Raymond Carver
-Daniel Carr read "Invictus" by William Ernest Henley and "Anything Can Be" by Shel Silverstein
-Cory Funk read "The bottle is drunk out by one" by Philip Larkin and "Acquainted with the Night" by Robert Frost
-Jim Sachs read "Do not go gently into that good night" by Dylan Thomas
-Deborah Savage read a selection by Karol Wojtyla
-Laurie Dimond read "Solstic Poem for Kristjan Arnason" by Bill Holm, "The Longly-Weds Know" by Leah Furnas and "Awakening" and "Calculated Risk" by Brian Andreas
-Joe Docter read "Face West From California's Shore" by Walt Whitman
-Alexandre Ferreria read a selection by Rumi and "Adage" by Billy Collins
-Nat Nelson read "Pied Beauty" by Gerard Manley Hopkins and an excerpt from "When Lilacs Last in the Dooryard Bloom'd" by Walt Whitman
-Sarah Covington read "Stars" and "The Outcast Mother" by Emily Bronte
Rebecca Omastiak contributed to this report.
Alex Keil can be reached at amkeil@stthomas.edu.