Flooding continues to wreak havoc on communities in southeast Minnesota and northwest Wisconsin Monday. Minnesota Gov. Tim Pawlenty plans to meet with legislators today about the possibility of a special session to discuss flood aid.
Throughout the weekend residents of multiple communities, including Owatonna and Portage, Wis., were forced to evacuate. St. Thomas senior Corrine Simonson said her sister's home in Owatonna was flooded with more than 3 feet of water from the Straight River.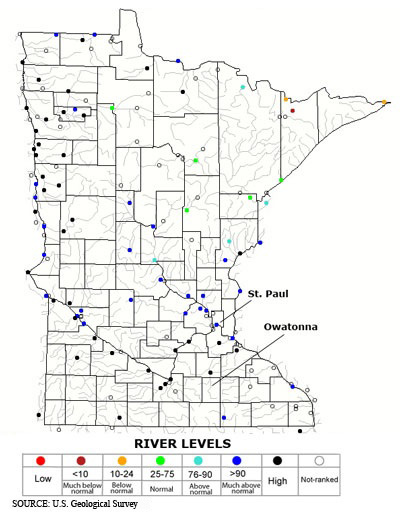 "I went home last Friday and it was crazy, the amount of flooding," Simonson said in a Facebook message. "It is the worst I have ever seen it."
Because her parents' house is on a hill, it avoided flooding, Simonson said, but it was impossible to reach the house because of road closings.
Junior Alison Dube said her house in Owatonna wasn't damaged, but the Straight River flooding affected the city's downtown area.
"[It] flooded Bridge Street which is a major road in Owatonna," Dube said in a Facebook message. "Around 70 houses were damaged and a bunch of businesses on Bridge Street as well. Many of the streets leading out to the highway were closed down since the river flows right around the city."
Most of the flooding stemmed from the several inches of rain that poured out of the crawling line of thunderstorms that moved through the Midwest last week. Rainfall of 5 to 7 inches was common, while some areas in south-central Minnesota received more than 10 inches.
Many major roads were shut down in recent days, including Highway 169 between Mankato and St. Peter, which was closed Sunday morning. Interstate Highway 35 was closed around Owatonna on Friday.
Students attending Campus Ministry's freshmen retreat at the Gainey Conference Center in Owatonna saw some effects from the flooding Saturday and Sunday.
"Most of the walking trails were covered, which prevented us from seeing more of the facility and our shoes were pretty muddy by the end of the trip," freshman Emily Hoffmann said in an e-mail.
Students were asked to take showers only on Saturday night to conserve water, Hoffmann said.
"There was definitely a lot of water, but we still had a great time and were able to have a bonfire Saturday night," she said.
Pawlenty has asked the Federal Emergency Management Agency to conduct preliminary damage assessments in the affected regions, a necessary step in determining if the flooded areas will qualify for a disaster declaration. Teams will start making those assessments today.
Theresa Malloy contributed to this report.
Jordan Osterman can be reached at jrosterman@stthomas.edu.