Tropical storm Sandy, demoted from its hurricane status Monday, has stranded some St. Thomas community members on the East Coast and put others living in the storm's path in danger of flooding and extended power loss.
With a 13-foot surge of seawater, New York's financial district and subway tunnels were flooded. Wall Street lost power, and 3.1 million people are believed to be out of power.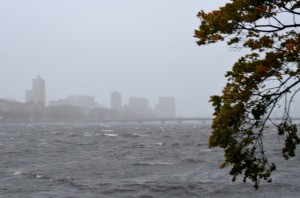 Karen Kassekert, a St. Thomas graduate student, said the storm delayed her flight.
"I was supposed to fly back to Minnesota from Washington, D.C. tonight, but now won't be back until Friday," Kassekert said in a Facebook post to TommieMedia.
Patti Riipa, St. Thomas 2005 graduate, said she is expecting to see the storm's effects in Maryland.
"We're right in the middle of the path, expecting to be without power this week, but we're safe and sound and trying to make the most of it," Riippa said in a Facebook post to TommieMedia.
Communication and Journalism associate professor Bernard Armada was spending the midterm break on the East Coast for his niece's wedding when the storm hit.
"I'm stranded on the East Coast with my family, bracing for the hurricane," Armada said in an email. "Our flight for tomorrow afternoon was just canceled; we really have no idea when we'll be able to return home."
Sandy made landfall in the U.S. 8 p.m. Monday near Atlantic City, N.J., which was already mostly under water and saw a piece of its world-famous Boardwalk washed away earlier in the day.
At least 10 U.S. deaths were blamed on the storm. Some of the victims were killed by falling trees and at least one death was blamed on the storm in Canada.
Storm damage was projected at $10 billion to $20 billion, meaning it could prove to be one of the costliest natural disasters in U.S. history. If the storm reaches the higher estimate of $20 billion in damage, that would put it ahead of Hurricane Irene, which raked the Northeast in August 2011 and caused $16 billion in damage. Hurricane Katrina, which killed 1,200 people, cost $108 billion.
The full extent of the storm's damage across the region was unlikely to be known until daybreak.
Check TommieMedia for continued coverage of superstorm Sandy.