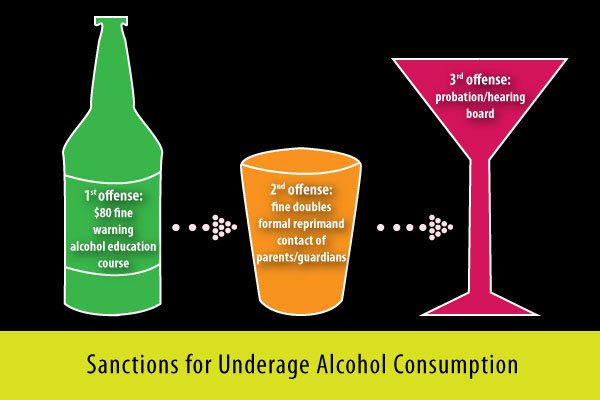 Graphic by Katie Souba, creative designer
St. Thomas and the City of St. Paul will be increasing enforcement efforts due to constant disturbances caused by parties.
St. Thomas Neighborhood Liaison John Hershey thinks the police are more willing to enforce the social host ordinance this year than in previous ones.
"I think that everyone is getting tired of getting house complaints," Hershey said. "My bosses are tired of hearing complaints. The city council is starting to get tired of hearing it."
Hershey said that events during Tommie-Johnnie football weekend brought a lot of complaints concerning the actions of intoxicated students.
"The behavior was outrageous and sad. A number of people have complained to me about the behavior of people that were wearing purple: being noisy, rude, profane, and disruptive," Hershey said. "I know that in my 14 years here that this past Tommie-Johnnie weekend marks the most significant negative reaction I've received by far."
The Public Safety crime log reported 24 incidents during that weekend including noise/party complaints, liquor law violations, intoxicated person incidents, disorderly conduct and neighborhood disturbances.
"It was a sad weekend as far as I'm concerned," Hershey said. "I am glad we won the football game, but the fallout from that event is something that my office will deal with for months to come."
Hershey said that it is not unusual for him to deal with more than 75 neighborhood complaints a month regarding alcohol-related incidents and disruptive behaviors.
Assistant Dean of Students Jim Sachs said he thinks underage drinking and partying will always be an issue.
"Alcohol-related problems have been here long before I got here, and it will be here long after I leave. It is the No. 1 issue for everybody with my job in the country," Sachs said. "It's societal. It is the same thing every year. It doesn't change. We can only mitigate the damage."
The first offense for an underage drinking violation results in an $80 fine, a warning and an obligation to take an alcohol education course. The second offense results in the doubling of the fine, formal reprimands, and the contacting of parents or guardians. The third offense results in probation and/or having to go in front of a hearing board, Sachs said.
"We are not here to be mean," he said. "The idea is we have rules, you may not agree with the rules, but we can not run away from the state law, so we have to do it."
Junior Heather Gilbert does not think underage drinking and partying is an issue here at St. Thomas.
"Every college you go to is going to have parties and kids drinking underage," Gilbert said. "St. Thomas has a good reputation for education, and I understand that they want to have a good reputation for respectable students too, which I believe we are."
Hershey said the social host ordinance was put into effect with the purpose of holding hosts responsible for allowing gatherings where underage drinking is present. He thinks the ordinance does not necessarily make people change their behavior but makes people become more aware of their behavior.
In St. Paul, a violator of the ordinance can be subject to a maximum penalty of 90 days in jail and/or a $1,000 fine.
Senior Shannon Graunke thinks that the social host ordinance will not reduce the amount of underage drinking or partying.
"It prevents underage drinking at parties to an extent, which may benefit the community, but minors are now looking elsewhere to drink," Graunke said.
Junior Trevor Johnston is not surprised about the increased enforcement efforts.
"I feel that there is a responsible way to enjoy festivities without being bothersome to the neighbors," Johnston said. "If you want to go to a place where there are a bunch of people, then you can go to a bar where you won't disrupt neighbors and families."
Hershey believes that the student disruptive behavior has had a negative effect on the St. Thomas reputation locally.
"If people could just figure out how to be polite and navigate around the neighborhood quietly and respectfully, we'd be much better off," Hershey said. "I don't think that is a big thing to ask,"
Anna Tu can be reached at tu978399@stthomas.edu.