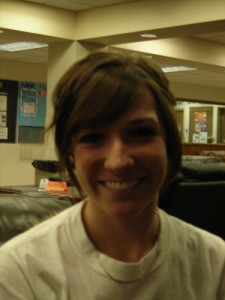 After senior Sarah Ritterspach's best friend died of brain cancer a little more than a year ago, she wanted to do something in her friend's memory. So she decided to shave off all her hair.
"My good friend told me about an organization that raises money for cancer research, and as an incentive for other people to donate, all the participants shave their heads," Ritterspach said. "I thought, 'Why not? It's just hair.'"
Ritterspach said the idea to shave her head was the perfect tribute to her best friend Maggie Bye, who died Dec. 1, 2008.
"After she had chemo and lost her hair, she had this really nice wig that was real hair, but she hardly ever wore it," Ritterspach said. "Her attitude was, 'I don't care if I have cancer. This is what I look like.' So this fundraiser just seemed to exemplify Maggie."
Ritterspach and Bye met in middle school and remained best friends until Bye's death, even though Bye moved to Wisconsin after their sophomore year in high school.
"Right before she moved to Wisconsin, we were sitting in her living room and she kept saying her tailbone was hurting, so I told her to get it checked out," Ritterspach said. "Two months later, they found malignant tumors, and those eventually moved up her spine to her brain."
Reactions of family and friends
Ritterspach said she is looking forward to shaving her head in honor of Maggie and isn't nervous at all.
"I think it'll be great. I usually have a pixie cut, but I thought I'd grow it out a little longer so there's more to cut, so right now it looks like a mullet," Ritterspach said.
She said her friends and family have had mixed reactions to her idea of shaving her head.
"A lot of people know the background of Maggie and don't know what to say," Ritterspach said. "But my dad said, 'If you can do this, I can do this,' and he signed up to have his head shaved as well, and he's trying to raise $10,000. He's 68 and I told him that might be the end of his hair, but he's still doing it."
The fundraising event
Ritterspach and her father will have their heads shaved March 21 in Wisconsin along with a group of other volunteers trying to raise money for cancer research. The event is organized by St. Baldrick's Foundation, a childhood cancer research organization.
By shaving their heads, the volunteers show their solidarity with cancer patients who lose their hair during chemotherapy treatments. It's also a way of drawing attention to the cause and getting people to donate.
"I initially was going to try to raise $1,000," Ritterspach said. "But the response was overwhelming, so I changed my goal to $5,000."
Benefit concert at O'Gara's
Ritterspach has already raised $3,820 and one of her friends, senior Brad Larson, is organizing a benefit concert at O'Gara's Bar on Snelling and Selby avenues to help her reach her goal.
"It's called 'Shower Your Love'. Good music, better cause," Larson said. "Two bartenders are bartending for free and donating all their tips. O'Gara's even let us use the place for free, except for the $100 cleaning charge, which gets waived if we bring in $800 or more in liquor sales."
The event starts at 9 p.m. Wednesday. Larson said there will be drink specials and local bands Hotel San Sebastian, Lotus Eater and Sexy Delicious will all be playing, starting at 10 p.m. There is a $5 cover charge, all of which will be given to Ritterspach to help her reach her fundraising goal.
"Bring your friends and dance moves," Larson said. "Shaving your head is a big deal, especially for a girl, and she's raising money for a great cause so we should all support her."
Katie Broadwell can be reached at klbroadwell@stthomas.edu.