The Undergraduate Student Government hosted its first International Winter Dance Festival Wednesday night.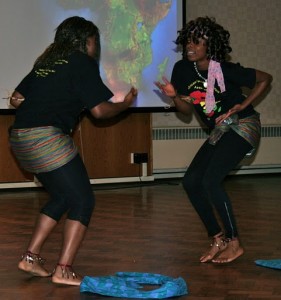 "I thought the best way to raise awareness of diversity on campus is to do it in a fun way," USG Diversity Senator Sally Mahmoud said. "Dance is a great way to show students, especially when there is so much diversity on campus that needs to be expressed."
The festival featured five dance performances representing countries from all over the world, including the Brazilian samba, Hawaiian hula, Tunisian belly dance, Indian Bollywood dance, African dance and a Saudi Dabke performance.
Following the performances, international foods were provided such as Chilean Salad, Indonesian Chicken Curry, Nigerian Jollof Rice, Ethiopian Aleche and Middle Eastern Baklava for dessert.
After the dinner, students were encouraged to dance and learn parts of the international dances performed.
Since it was USG's first time doing an event like this, Mahmoud said she wasn't sure how it would turn out.
"For it being the first time, we have drawn a diverse crowd, and it is great to see people of different races with different backgrounds coming together," Mahmoud said.
Students were drawn to the event for different reasons.
Senior Destiny Clifford attended the St. Thomas Dance Club performance Tuesday night and said it was interesting to compare modern dance to the international styles of dance.
"I liked the energy the dancers had," Clifford said. "You could tell they were really passionate and it was cool to compare the different styles."
Freshman Ranitha Rajaratnam, an international student from Sri Lanka, said the event was nice because it showed that St. Thomas is working to make international students feel welcome on campus.
"I thought it was enlightening," Rajaratnam said. "It is nice to see all the international students come together, like a mini globe."
Ashley Stewart can be reached at stew1177@stthomas.edu.