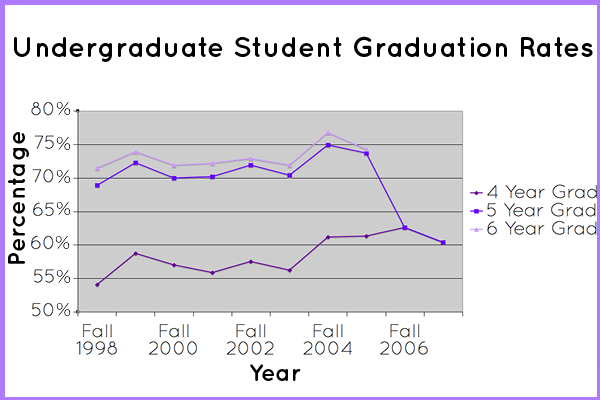 Better advising, tutoring and mentoring. Mandatory orientation for freshmen. Limits on changing majors and adding second majors. Increased tuition for students who take longer than four years to graduate.
These are the new requirements for the University of Texas' new 'slacker' rule.
The University of Texas and a few other universities are deciding whether to enforce these requirements for students in an effort to boost four-year graduation rates and save money.
However, Michael Jordan, St. Thomas associate vice president for undergraduate studies and academic advisement, said that the university has no plans to enforce such a rule.
"I have never heard anyone express a concern," he said. "This is not a problem at St. Thomas, and it's not something that anybody I know in the administration has ever worried about at all."
Jordan explained that problems with undergraduate graduation rates occur mostly at public universities. Public universities are funded by the government, which means the longer it takes for a student to earn a bachelor's degree, the more it costs the university. In turn, higher graduation rates cost universities and the state less money.
At the University of Minnesota students graduating on time is a problem. U of M President Eric Kaler recently proposed switching to a year-round academic calendar or three-semester year. The new calendar would allow students to earn bachelor's degrees in three years instead of four, which would save the university thousands of dollars.
The proposed change was discussed amidst floundering graduation rates and decreased state funding for the university.
However, since St. Thomas is a private university, state funding and negative effects associated with lackluster graduation rates are irrelevant.
"Occasionally, the Financial Aid office might be concerned about it if students need 132 credits and are taking courses they don't need for graduation," Jordan said.
But he also added, "If students voluntarily took more credits than they needed to meet minimum requirements for graduation, that would be a revenue enhancement for the university, and it's a nice educational advancement as well."
St. Thomas' four-year graduation rates have steadily improved over the last 10 years. In 1998, 54 percent of undergraduate students graduated in four years or less. The latest figures from 2007 show that the university's graduation rate for four-year students has increased to 60 percent.
Junior Tameka Williams said that she switched her major during her sophomore year and doesn't believe that enforcing a 'slacker' rule would be beneficial for colleges.
"I think in general, it's not very common for a lot of people to know what they want to do right away. (The rule) would push people to keep the major that they first came with, but they may end up in a career that they don't find as satisfying," she said.
Jordan agrees, but said that the financial incentive for students is to finish as soon as possible.
"Frankly, for the private universities–if students take too long to graduate, it's costing the students more money," he said.
"Our pattern of gradually increasing tuition rates from year to year would be an encouragement to students to finish. Taking more credits now with the thought that the dollar per credit might be higher in a future year would make sense. The incentives in private education seem to be to encourage students to finish as soon as they can."
Sophomore Maddie Hodapp also said that a 'slacker' rule won't be necessary.
"If people just stay on the track with the courses they have to take… they should be able to graduate in four years," she said.
Amanda Ogbuehi can be reached at ogbu0322@stthomas.edu.
Graphic created by Genevieve Cossette.