Although many college students try to stay as far away from academic endeavors as possible during the summer, one St. Thomas student used his summer as an opportunity to improve his writing skills. After starting a blog to showcase his short story, sophomore Grant Spanier decided to take his writing to the next level.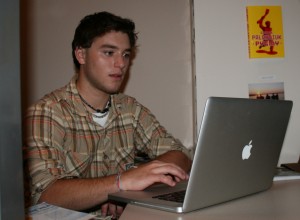 "I came to a point where I realized if I was serious about my writing, I needed to get it out there," Spanier said. "More importantly, this epiphany occurred at a time when I was surrounded by talented, motivated people."
This next level included publishing his short story, but Spanier wanted to add the creative writing of his friends as well. Spanier and his friends Nate Anderson and Dustin Thomas, all Twin Cities residents, wrote stories centered on religious themes and plan to publish the stories in a short anthology.
Spanier's story chronicles a drug-addicted man's week-long struggle with his ideas of religion.
"I have struggled with the concept of religion for an enormous period of my life," Spanier said. "The short story I wrote, 'Kool-Aid Chronicles,' is a projection in some ways of the journey I've taken discovering my own views on religion and acknowledging others'."
The group, still undecided on the title of the anthology, is debating whether to self-publish the book through Lulu.com or to have a publishing company print it using profits Spanier and his friends have made from selling shirts. They have six contributing writers so far and are looking for two more stories to make the book around 100 pages.
Anyone is welcome to submit writings to grant_spani@hotmail.com as long as they are "thought-provoking and well-written," Spanier said. The group also plans to include artwork and photographs. Edited submissions are due Oct. 1, and they expect the finished book to come out in December.
Spanier and his friends are also planning on producing a soundtrack featuring Thomas and ten other local musicians. The soundtrack will be packaged with the book, and the group plans to take both on tour in December to several small venues in Minneapolis, St. Cloud and Duluth.
"Realistically, this project is more about showing that the youth have power, that we can do things people love," Spanier said. "We want to show that if you work hard and stay focused you can accomplish essentially anything. We have the ability and the resources to do great things, so we're going to."
Maggie Clemensen can be reached at clem0427@stthomas.edu.