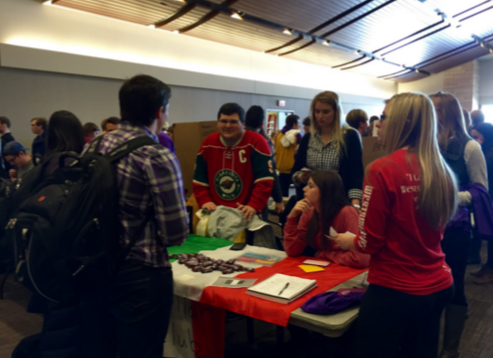 This semester's spring activities fair featured four new clubs: Capoeira Club, Italian Club, Aviation Club and Catholic Relief Services Student Ambassadors Club.
Capoeira Club
Capoeira is a Brazilian art form that provides students with the opportunity to experience a new way of moving by combining elements of dance, acrobatics and martial arts with the music and culture of Capoeira. The club's president, junior Michael Kagan, describes the movements in a game of Capoeira to be like a conversation – always moving and growing.
"It's expressing yourself in a way that you never would have before," Kagan said. "Capoeira is a personal exploration as well, because you are getting more confident. You're exploring something new and expressing yourself."
Capoeira provides a unique cultural and educational experience for members, who will have the opportunity to learn the history of the art form and be introduced to songs in Portuguese. The club's communications director, junior Maria Silva, hopes the uniqueness of the club with attract curious students.
"I would encourage students to be more open-minded," Silva said. "Try something new and join the movement."
Upcoming events for the Capoeira Club include an international dinner in April. In the summer, Silva hopes the club can perform at St. Thomas' Neighbor Fest and potentially the State Fair. Members also volunteer, teaching children at schools about the art form and demonstrating their talents during performances.
The Capoeira Club holds weekly classes from 6 – 8 p.m. on Mondays in ASC Dance and Tuesdays in the Brady Educational Center Auditorium. For more information check out the Capoeira Club UST page on Facebook. Other contacts for the Capoeira Club include adviser Heather Shirey of the art history department.
Italian Club
"Benvenuti al club d'italiano!" — "Welcome to Italian Club!"
The Italian Club hopes to engage and educate students of different backgrounds on the culture and heritage of Italy. Sophomore Maya Gardiner, the club's president, encourages anyone who is interested in Italian culture or planning to take a class in the language to sign up.
Members will learn "Italian culture beyond stereotypes [and] discuss aspects like diversity and inclusion that are very relevant for contemporary Italian culture," wrote Danila Cannamela, the club's adviser.
Cannamela is new to St. Thomas and came up with the idea for the club after talking to her introductory Italian students.
"She was the one who kind of put the idea in our head and motivated us," Gardiner said.
The Italian department at St. Thomas is small compared to its language counterparts, and the club is "trying to expand the horizons and help [students] assess what possibilities [they have]," said sophomore Austin Maffei, vice president of operations.
Both Gardiner and Maffei described cinema as a staple of Italian culture, which has inspired the club's upcoming event on Feb. 22: a workshop with Italian film director Fred Kuwornu. He created a documentary about his life and what it is like being involved in the film industry as a black Italian.
As for Italian cuisine, both Gardiner and Maffei showed interest in doing a cooking event.
"We are exploring different options with getting imported cheeses and meats from Italy," Maffei said.
The Italian club contacts its members through email and through its Facebook page, UST Italian Club. The club meets once a month. The next meeting is Tuesday, Feb. 23 in room 206 of the O'Shaughnessy Educational Center. For more information about the Italian club or to get involved, contact Cannamela or Raffaella Bottini, this year's Italian tutor.
Aviation Club
"We are just getting this club off the ground — no pun intended," said junior Nicholas Cox, Aviation Club president.
Aviation Club aims to educate St. Thomas students about aviation history, culture and career opportunities. It will also cover topics of maintenance, supply chain, management operations, logistics and air traffic control.
"Aviation as a club will be focusing on a lot more than just piloting or aircrafts," Cox said.
He believes the club will appeal to students in science, engineering and business programs. Members will also have opportunities to contact flight instructors and flight schools and will have access to a fully functioning flight simulator.
The Aviation Club is currently finalising semester plans for meeting times, but plans to meet once a month with service opportunities and field trips.
A senior pilot from Delta will be a featured speaker, and the board is also working with Delta to set up a tour for the end of the year. Other sites for field trips include an air traffic control tower and an aircraft maintenance hangar. Cox also hopes to have the club volunteer at South St. Paul's municipal airport.
The club is also developing a Facebook page and a website. Contact adviser Jessica Gustafson from the aerospace studies department for more information.
CRS Student Ambassadors Club
The Catholic Relief Services Student Ambassadors Club aims to aid and advocate for the poor and vulnerable both domestically and globally through the lens of Catholic Social Teaching in accordance with the United States Council of Catholic Bishops.
CRS members dig deep into social-justice issues including poverty, homelessness, human trafficking, immigration and marriage. Their goal is to determine how to effectively and ethically deal with these situations, while looking at them through the lense of Catholic social teachings.
"We recognize that a person isn't always needing material things," Dalsky said. "There is also a spiritual poverty involved, and we are wishing to address both aspects through CRS."
The club intends to live the message of Jesus through advocacy, education and service. This semester Dalsky plans to take members to visit the Minnesota Capitol and to do some lobbying and advocacy there.
"It's important – how do we as Catholics respond to these events and love in solidarity with each other and recognize our differences," said Dalsky.
The club, co-lead by junior Emily Dalsky and Annie Moylan, will meet every Sunday on the second floor of Murray-Herrick Center (MHC) at 12:30 pm. Contact CRS Student Ambassador's adviser Jacob Cunningham or email Dalsky or Moylan for more information.
Emily Sweeney can be reached at swee4225@stthomas.edu.